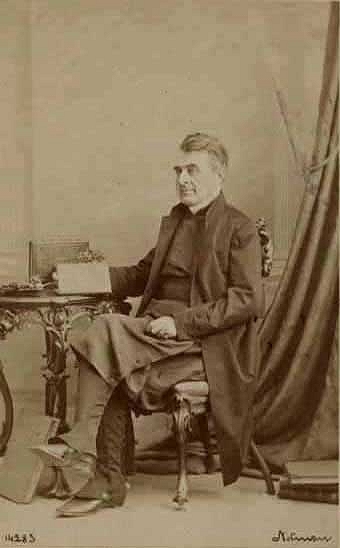 Francis Fulford,
Lord Bishop of Montreal.
Photographed in Canada by W M Notman in 1861.

The Cambridgeshire Hunt used to meet outside the 'Downing Arms' (p71) for the odd stirrup cup or two. One of the former bursars of Downing College Dr John Perkins used to hunt from here with his friend W G Grace, the cricketer.
The mother of Mary Fulford (the wife of Revd Fulford) was a sister of the Right Hon Spencer Perceval , the only UK prime minister to have been assassinated while in office.
The first Sir George Downing, buried in All Saints Church Croydon, was the builder of Downing Street in London, the short thoroughfare that now houses the official residences of the British Prime Minister and the Chancellor of the Exchequer. No's 10, 11 and 12 Downing Street still retain the original facade as built by Downing between 1682 and 1684.
Croydon farmworkers John Kidman, Anderson Storey, James Kidman and John Green were sentenced to seven years transportation to New South Wales for their part in 'breaking a threshing machine' (Croydon Riot). Anderson Storey and John Green apparently served their sentence in English jails. John Green returned to Croydon where the Revd Fulford described him (p58) as "now a very steady man, sings in the choir at Croydon Church, and is a Communicant."

The "Downing Arms" (p71), once a farmhouse, became licensed as a public house with that name in 1827. It was also widely known locally as 'The Scratching Cat' because the pub sign outside showed the Downing family arms (above) - featuring a griffin - which the locals did not recognise.
Our

Speculum Gregis Guestbook!

Click on 'Sign Guestbook' below to post - just to say 'hello'... ask a question for other readers... provide site feedback... provide or request information...
Submitted e-mail addresses are fully protected and will not be published, although correspondents will still be able to reply via the protected link supplied.
The Guestbook is not moderated although entries are screened for bad language! Be good.