A local history and genealogy site for Wimpole, a village and parish in South Cambridgeshire.
Curated by Steve Odell.



Home
1950 Yearbook
WPTC Tutors
WPTC Students
Contact Website
Wimpole Park Training College
Opened Summer 1947, final closure 29 September 1950

Emergency Teacher Training College, Wimpole Park, Cambridgeshire.
A local history and genealogy page for the Parish of Wimpole.


| | |
| --- | --- |
| | |
This is a new section of the Wimpole Past website which will attempt to record some of the history of the emergency Teacher Training College set up within the parish of Wimpole for three years after the Second World War. The college was located in Wimpole Park, a flat area inside the Arrington Gates on the Wimpole Estate in Cambridgeshire.
The original huts on the site were British-built by the Royal Engineers in 1942 and occupied by British military until 1944, possibly related to protecting (then RAF) Bassingbourn airfield. In 1943 the War Office formally requisitioned the land from Captain and Mrs Bambridge (the owners of Wimpole Hall), for the price of thirty-three pounds, eight shillings, and tuppence per year of usage in order to use Wimpole Park as a contemplated County Hospital 'to help with the casualties for the expected future invasion of Europe'.
However, between 1944 and 1960 the area became host in turn to the US Army 163rd General Hospital treating army casualties from the European war, a small prisoner-of-war camp (apparently registered to the 'Hardwicke Arms'), a squatters camp, an emergency 'fast track' teacher training college to help servicemen and women returning to civilian life, a community school, emergency local authority housing, and finally the 7510 US Air Force Hospital to help with casualties from the Korean War (Bassingbourn air base having returned to USAAF control). The Air Force Hospital is perhaps best remembered now for being the 'place-of-birth' for hundreds of American citizens.
Wimpole Park Training College was housed in some of the ex-US Army Hospital wards that were already on the site. The first Session intake of college students that commenced in the summer of 1947 was for men only, the second and third year Sessions catered for both men and women students.
The training college at Wimpole Park ran for three years, one 'fast track' course ('Session') per year, as part of an emergency solution to help solve two problems. Firstly, the substantial number of servicemen and women leaving the armed services after the war without immediate employment and, secondly, a large shortage of qualified teachers in post-war schools.
Between 700 and 750 students studied at Wimpole Park Training College over the three years, gaining their educational qualifications to enter teaching. The college finally closed on the 29 September 1950.
At the peak of the government's Emergency Training Scheme in 1947, there were 55 emergency Training Colleges in operation in all kinds of accommodations with places for 13500 students per year.
In total, the national scheme yielded about 33000 new teachers (22000 men and 11000 women) which represented approximately one-seventh of the total teaching strength in the primary and secondary schools throughout the UK going into the 1950s.
The following list details the source material I currently have available, and which will (eventually) all be put online and searchable. Note I have very little information about the first Session that ran from 1947 to 1948. It will clearly take some months to complete the project as listed below, but in the meantime, I am willing to do 'look-ups' on names etc (if you ask nicely!). Please use the site's Contact Page.
[Above: Wimpole Park Training College students, grouped in front of 'Cromwell' Court, Session III, 1949-1950. Image courtesy of Mrs Belton (nee Freer).]

Index: (in no particular order)
1
Site Map and Key to Buildings. (2nd Session)
2
Hand Drawn Site Map, drawn by Molly Dore. (3rd Session)
3
College Magazine (36pp) Christmas 1948, Volume II No 1. (2nd Session)
4
College Magazine (36pp) July 1949, Volume II, No 2. (2nd Session)
5=
College Year Book (64pp) June 1950, Final Year to closure. (3rd Session)

(In Early Preparation - some pages available)

5=
College Diary 1949-1950 (3rd Session).
6
Event Programmes (some undated, mainly 2nd Session):
- "Saloon Bar"/Harvey (Dramatic Society). (II)
- "The Tragedy of Othello"/Shakespeare (Dramatic Society). (II)
- "Rope"/Hamilton (Dramatic Society). (II)
- "Claudia"/Franken (Dramatic Society). (II)
- "Merrie England"/German (Dramatic Society). (II)
- "Series of Plays" (Puppet Groups) (19 December 1948). (II)
- "Festival of Nine Lessons and Carols" (21 December 1948). (II)
- "The Swineherd", "Love and Learning", "Villa for Sale", "The Foolishness of God"
(Dramatic Society) (23 March 1949). (II)
- "The Rivals"/Sheridan (The Staff) (31st March 1949). (II)
- "Androcles and the Lion"/Shaw (Literary Society) (6 July 1949). (II)
- "A Midsummer-Night's Dream"/Shakespeare (Dram. Society) (30 August 1950) (III)
- "The Relapse"/Vanbrugh (Dramatic Society) (26 September 1950) (III)
7
"Teaching Practice" - Comic Song (sung to the tune of "Cigarettes and Whisky"). (III)
8
Laboratory Rules.
9
Godfrey Garton Wicksteed. [

Quaker, Master Mariner, Tutor, Educationalist.

]
10
Known Tutors and Staff (as found in the source material). Information welcomed. (

In Early Preparation - but some 30 names now listed)

11
Known Students (as found in the source material). Information welcomed. (

In Early Preparation - but some 370 names now listed)

Principal: E.L. Hutchings.

Deputy Principal (1947 and 1949): Miss H A Strathdee.
Deputy Principal (part 1948): Miss J Odell.
First Session (I): Summer 1947 - June 1948. (Men only)
Second Session (II): 3 July 1948 - 29 July 1949. (Mixed)
Third Session (III): 10 September 1949 - 29 September 1950. (Mixed)
There were 13 Accommodation 'Courts' (ie huts...) each for around 20 Students. The 'Courts' were named after eminent Cantabrians.
| | | | |
| --- | --- | --- | --- |
| Fisher Court | Parker Court | Cotton Court | Taylor Court |
| Hobson Court | Marlowe Court | Cromwell Court | Bedford Court |
| Pepys Court | Clarkson Court | Newton Court | Brooke Court |
| Sedgwick Court | | | |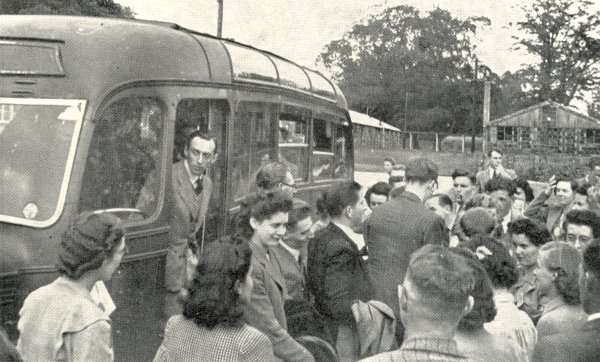 WPTC Second Session Students Arriving for their First Day (3 July 1948)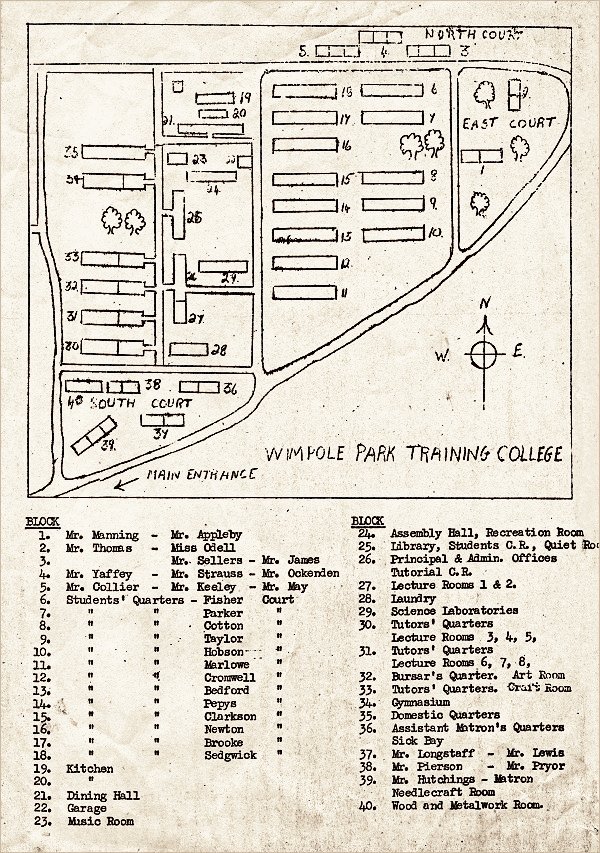 Keyed Plan of Wimpole Park Training College
(Duplicated sheet handed out to Students on their first day)
'Student Guides' with the Principal (2 July 1948)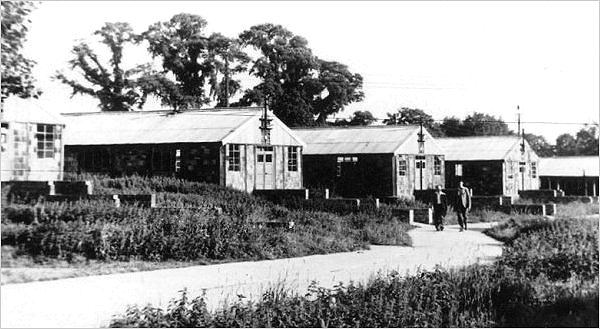 The ex-US Army Hospital Wards at Wimpole Park.
In the Training College configuration, these four huts were (left to right) No's 33, 32, 31
and 30 on the keyed plan above.
College Activities 1948-1949 (Session II)
Clockwise from top-left: "Twelfth Night", Netball Team, Art Group, Ladies Hockey Team,
Electioneering Day, Rugby Team.
From the College Magazine (Vol II, No 2) July 1949.
[Note: Rugby Team, back-row, second from left is E R Braithwaite (1912-2016), Guyanese-born British-American novelist, writer, teacher and diplomat best known for his stories of social conditions and racial discrimination against black people. Author of 1959 novel "To Sir, With Love" made into film of same name starring Sidney Poitier.]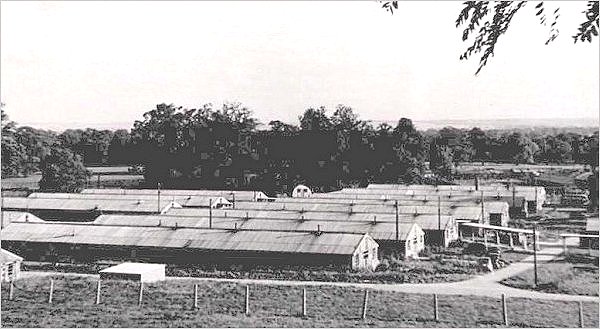 A view over Wimpole Park from the North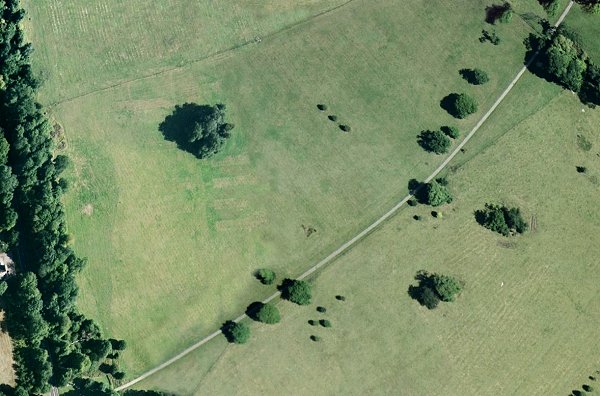 Ghosts in the Grass (2003).
Dry weather and scorched grass reveal the 'ghosts' of some of the demolished Wimpole Park buildings. Particularly clear are four huts and their access pathways (just below the large clump of trees).
They are the four college huts (numbered 30 to 33) seen in the photograph higher on this page.
Compare with the the aerial view below.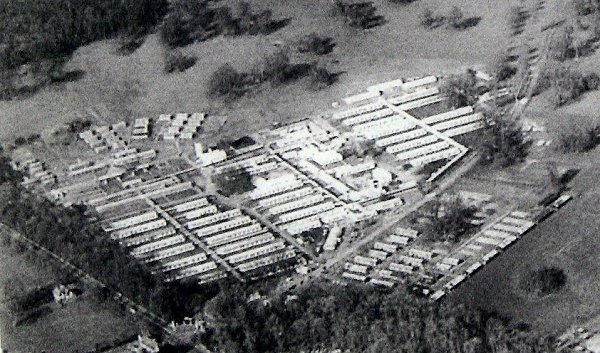 Aerial View of Wimpole Park from the South West (1950s Configuration).
The Arrington Gate entrance from the Royston/Huntingdon Road is at the bottom of the image,
Wimpole Hall is off-image beyond the top-right corner
This page was last updated on: 25 August 2020.