A local history and genealogy site for Wimpole, a village and parish in South Cambridgeshire.
Curated by Steve Odell.



Home
Wimpole Park Training College
1950 Yearbook
WPTC Students
"A Midsummer-Night's Dream"
Performed 30 August 1950 and 2 September 1950
Wimpole Park Training College, Cambridgeshire 1947-1950.
A local history and genealogy page for the Parish of Wimpole.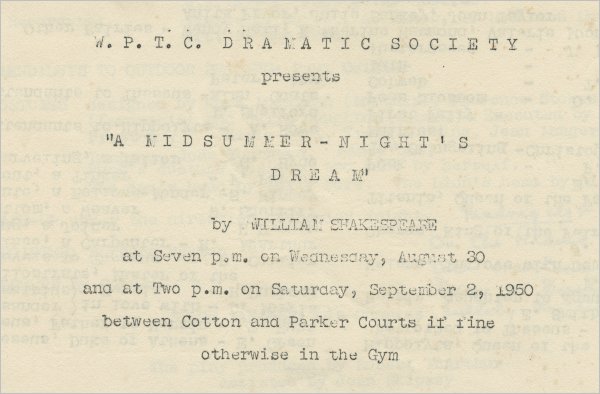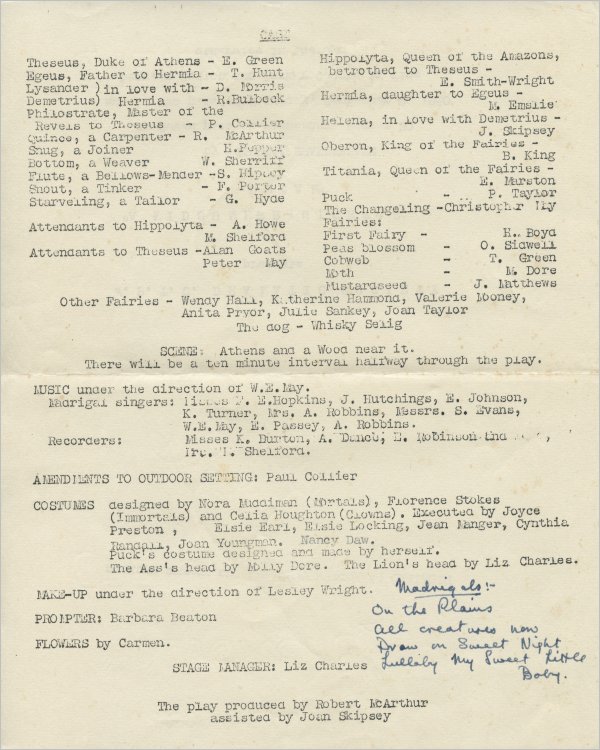 W.P.T.C. Dramatic Society (Session III)
Presents
"A MIDSUMMER-NIGHT'S DREAM" by William Shakespeare
at Seven p.m. on Wednesday, August 30
and at Two p.m. on Saturday, September 2 1950
between Cotton and Parker Courts if fine, otherwise in the Gym.

Cast:
Theseus, Duke of Athens: E Green
Egeus, Father to Hermia: T Hunt
Lysander, in love with Hermia: D Morris
Demetrius, in love with Hermia: R Bulbeck
Philostrate, Master of the Revels to Theseus: P Collier
Quince, a Carpenter: R McArthur
Snug, a Joiner: H Pepper
Bottom, a Weaver: W Sherriff
Flute, a Bellows Mender: S Hipsey
Snout, a Tinker: F Porter
Starvelling, a Tailer: G Hyde
Attendants to Hippolyta: A Howe and M Shelford
Attendants to Theseus: Allan Goats and Peter May
Hippolyta, Queen of the Amazons, betrothed to Theseus: E Smith-Wright
Hermia, daughter to Egeus: M Emslie
Helena, in love with Demetrius: J Skipsey
Oberon, King of the Fairies: B King
Titania, Queen of the Fairies: E Marston
Puck: P Taylor
The Changeling: Christopher May
Fairies -

First Fairy: H Boyd
Peas Blossom: O Sidwell
Cobweb: T Green
Moth: M Dore
Mustardseed: J Matthews
Other Fairies: Wendy Hall, Katherine Hammond, Valerie Mooney, Anita Pryor, Julie Sankey, Joan Taylor
The dog: Whisky Selig
[Editor's Note: Some of the cast members above may prove to be children of either tutors or pupils from Wimpole Park School. Or, indeed, a dog.]

The Scene: Athens and a Wood near it.
There will be a ten minute interval halfway through the play.
Music: Under the direction of W E May
Madrigal Singers: Misses F E Hopkins, J Hutchings, E Johnson, K Turner, Mrs A Robbins, Messrs S Evans, W E May, E Passey, A Robbins
Recorders: Misses K Burton, A Dance, E Robinson, Mrs M Selford
[Madrigals: On the Plains, All Creatures Now, Draw on Sweet Night, Lullaby My Sweet Little Baby]
Lighting by Norman Ackerman and Ronald Radford
Amendments to Outdoor Setting: Paul Collier
Costumes:
Designed by Nora Muddiman (Mortals), Florence Stokes (Immortals) and Celia Houghton (Clowns). Executed by Joyce Preston, Joan Youngman, Nancy Daw
Puck's costume designed and made by herself.
The Ass's head by Molly Dore. The Lion's head by Liz Charles
Make-Up under the direction of Lesley Wright
Prompter: Barbara Beaton
Flowers by Carmen
Stage Manager: Liz Charles
The play produced by Robert McArthur, assisted by Joan Skipsey
This page was last updated on: 24 May 2020.