A local history and genealogy site for Wimpole, a village and parish in South Cambridgeshire
Curated by Steve Odell



Home
(2) Burials 1600-1699
(3) Burials 1700-1799
Parish Register Hub
Burials 1560-1599 for the

Parish of Wimpole

(Page One)


From the Parish Registers



St Andrew's Parish Church, Wimpole
A local history and genealogy page for the Parish of Wimpole.

St Andrew's Parish Church.
A living church for the Parish of Wimpole, located within the National Trust's Wimpole Hall Estate.
The Church is managed and maintained by the Parochial Church Council.
My thanks and acknowledgments to the Parochial Church Council for Wimpole and St Andrew's Parish Church for allowing the online publication of the Church Registers.
The listings that follow are based on the provided Church Registers for the Parish of Wimpole, as transcribed and collated by T P R Layng in March 1983. Originally typed by C L and A E Hatton. Additional research for this website is by Steve Odell.
In medieval times there were no parish registers. Through the efforts of Thomas Cromwell in 1538 a mandate was issued by Henry VIII for churches to maintain parish records. This ordered that every parson, vicar or curate was to enter in a book every wedding, baptism and burial in his parish. In 1558 Queen Elizabeth re-confirmed her father's mandate into law and many church records date from that year. Wimpole's own church records for baptisms, weddings and burials began in 1560.
Unless otherwise stated, the dates shown here record the date of the burial at Wimpole Parish Church, not the date of death. For practical reasons (in those unrefrigerated times), local burials were usually carried out within a few days of death.
The original spelling of names in the Registers (as transcribed) has been retained.
In England and Wales, up to 1751, the New Year began on the 25th March (Lady Day).
Information, notes, observations, and comments additional to the Wimpole Registers' text are usually shown within [square brackets] and in italics.
This webpage has been reset to facilitate name searches in "name" format (ie words or phrase within quote marks or brackets). See search for more detailed 'name search' options.
Key: [PR: ]: Parish Registers. (+): Churchyard Record. (MI: ): Monumental Inscription.
(BT: ): indicates the entry as shown in the Bishop's Transcripts 1599-1812 where it differs from the entry in the local church register. For more details, see the original Introduction written by T P R Layng in 1983 on the Parish Registers page.]
See also the Churchyard and Churchyard Plan pages for listings of known burials, monumental inscriptions and known locations of burials and interments.
I have compared the Layng transcript with the commercially available Cambridgeshire Family History Society version. Any significant differences have been identified as
[C: ]
. Local parish records on CDs can be purchased from the society.
I would be pleased to hear from you if you can offer any additional genealogical or family information relevant to this page, especially if you possess old photographs that could be added to the more general site for those who follow. Please use the site's Contact Page in the first instance.

The Burial Register for the Parish of Wimpole starts here.
[Original transcript by T P R Layng, 1983]

21 September 1560
[blank]
William, son of Margaret
28 November 1560
MAWLDEN
Robert
18 January 1561
BROCKE
Edmonde, son of John
15 February 1561
SEMER
Marye, daughter of John
3 May 1561
MORE
Agnes, wife of Thomas
20 July1561
[blank]
Amans, son of Abbyngton
10 December 1561
STOCKES
Joane, wife of William
19 December 1561
HOWSDEN
Susan
["Believed to be Susan Howsden, born at Grantchester, youngest child of John Howsden, farmer of the Rectory at Grantchester and his wife Eleanor" - Richard Housden 2008]
15 March 1561
BROCKE
Marye, daughter of John
2 April 1562
GARNAR
Awdree, daughter of Richard
4 May 1562
MAWLDEN
Elsabeth, wife of Thomas
7 September 1562
KYNGE
Walter
4 October 1562
MAWLDEN
Clement, son of Richard
22 December 1562
MEADE
Mother
6 June 1563
MORE
Ellen, daughter of Thomas
21 February 1563
SEMER
Anne, daughter of John
4? March 1563
MORLEY
Cutbert
3 June 1564
HOWSON
Margaret
[Possibly Margaret Howsden]
27 June 1564
MORE
John, son of Thomas
12 September 1564
NETHERWOOD
Mary, daughter of John
12 December 1564
SEMER
Robert
1 February 1564
ROBBERTES
Richard
21 April 1565
AWMERY
John
15 June 1565
SEMER
John, son of John
17 July 1565
TYTON
Ursuley, daughter of Robert
18 July 1565
TYTON
Alice, daughter of Robert
23 October 1565
TYTON
Margeret, wife of John
14 April 1566
PAINE
William
30 April 1566
SEMER
Richard
20 April 1567
HUBBERD
Maryone, daughter of William
12 May 1567
MAWLDEN
Thomas
19 May 1567
STOCKES
Clemence, wife of William
11 February 1568
MAWLDEN
William
1 March 1568
TWEN
Elizabeth
28 May 1569
HEIWARD
Anne, wife of John
14 January 1569
MAWLDEN
Clement
18 January 1569
FOXE
Elizabeth
13 December 1570
PRAT
John
14 December 1570
THAKE
Joane, wife of Thomas
19 December 1570
SPYCER
Thomas, son of William
10 January 1570
ARNDWOOD

(cfhs: AREDWOOD)

John
4 February 1570
WOOD
Leonard
10 February 1570
TYTMO--
Thomas
15 February 1570
HEIWARD
Mary
8 April 1571
CUTTELL
Thomas
29 September 1571
SEMER
Margery
28 November 1571
MAWLDEN
Elizabeth
9 February 1571
KENDERICKE
Stephen
4 September 1572
HEIWARD
Dorithie
30 January 1572
CROPWELL
Agnes
2 April 1573
GOODSON
Symon
15 April 1573
STANTON
John
15 April 1573
STANTON
Alice
8 May 1573
SEMER
Thomas
7 June 1573
TYTON
Awdry
15 June 1573
PRATT
Anne
9 April 1574
PRATT
Ellen
19 August 1574
BROCKE
Anne
14 October 1574
MORE
William
23 January 1574
CHAPMAN
Thomas
30 January 1574
CROPWELL
Margeret
2 April 1575
HEIWARD
John
19 April 1575
GOODSON
William
1 May 1575
OWEN
Joane
9 February 1575
CHAPMAN
Agnes
25 April 1576
SEMER
Anne
17 May 1576
PRATT
Thomas
16 May 1576
TYCHMARSHE
Margaret, wife of Thomas
23 December 1576
CHICHELEY
Mr Clement
[Clement Chicheley (?-1576), son of Thomas Chicheley and Elizabeth Docwra, husband to Mary[e] Hinde [Hynde] [the daughter of Sir John Hinde], and father of Thomas Chicheley (c1550-1592), and Ursuley, Dorithy and Elizabeth. See Chicheley Family.]
["Sir John Hinde, Justice of the Common Pleas, granted Banks Manor in 1548 to Thomas Chicheley as a settlement on the marriage of his daughter Mary to Clement Chicheley. Thereafter the manor was part of the Chicheley estate in Wimpole."]
11 March 1576
GODFFREY
Henry
25 May 1577
MAWLDEN
Alice
15 March 1577
CROPWELL
Roger
18 June 1578
EYNESWORTH
William
17 September 1578
MAWLDEN
Thomas
28 May 1579
CROPWELL
Awdrie
18 December 1579
MAWLDEN
Andrewe
25 January 1579
ADAM
Anne
11 March 1579
DAWSON
Agnes
3 August 1580
GRYPER
William
24 September 1581
WYLSON
Robert
[blank] September 1581
COOKE
Awdree
13 October 1581
CROPWELL
William
15 May 1582
TYCHMARSHE
Katheren
17 May 1582
SPYCER
William
24 September 1582
BROCKE
Thomas
29 January 1583
CHAPMAN
Henry
30 April 1584
STOKES
Hughe
30 May 1584
TYTON
Ellen
22 October 1584
GRIPER
John
1585
-
[No Recorded Burials]
25 May 1586
JEPSON
Awdre
16 July 1586
STOKES
Frances
9 August 1587
UMFFREY
Robert
1 June 1588
ADAM
Richard
1 April 1588
HUBBERD
Joane
21 June 1588
JEPSON
John
23 September 1588
CROPWELL
Ellen, wife of George
28 January 1588
GRYPER
Thomas
1 July 1589
RAYNER
John
11 September 1589
RUTT
Agnes
18 October 1589
TYTON
Alice, widow
26 December 1589
BROCKE
Anne, widow
27 March 1590
HINDE
Agnes, wife of William
28 March 1590
ARCHER
Sir John, Chantry priest of Bourne
16 May 1590
DAWSON
Alice, daughter of Thomas
4 October 1590
TYTON
Alyce
20 December 1590
CHAPMAN
Ellen
24 January 1590
JEPSON
Thomas
14 August 1591
CHAPMAN
Thomas
6 March 1591
UMFREY
John
17 March 1591
TYTON
Anne
4 May 1592
JEPSON
David
10 August 1592
HUBBERD
Clement
20 October 1592
CHICHELEY
Mr Thomas
[Thomas Chicheley (c1550-1592], son of Clement Chicheley (?-1576) and Mary Hinde, husband to Anne Bourne (below), father of Sir Thomas Chicheley (1578-1616) plus Elizabeth, Dorithie, William, Marye, Devereux and Clemant Chicheley. See Chicheley Family.]
6 December 1592
STANTON
William
10 February 1592
DAWSON
Elizabeth
28 March 1593
CROPWELL
George
10 October 1593
AINSWORTH
Richd
29 [26?] June 1594
CHICHELEY
Anne
[Anne Chicheley (Bourne) ( - 1594), daughter of Sir John Bourne, wife to Thomas Chicheley (1550-1592) (above), mother to Sir Thomas Chicheley (1578-1616), plus Elizabeth, Dorithie, William, Marye, Devereux, Clement, John and Anne. See Chicheley Family.]
12 July 1594
COOKE
Rose
8 August 1594
GRIPER
Thomas
28 February 1594
SEMER
Robert
3 March 1594
PAKENH

[A]

M
Robert, gent

["Robert Pakenham of North Witham(?), son of Robert Pakenham and Elizabeth Berkeley, husband to Ursula, daughter of Clement Chicheley of Belton, died Wimpole, 7 February."]

14 May 1595
JEPSON
William
10 August 1595
ADAM
Joane
27 August 1595
GODFREY
Joane

[blank]

August 1595
CROPWELL
Anne
3 October 1595
TENNANT
Gabryell
1596
-
[No Recorded Burials]
[blank] 1597
GRIPER
Margaret
12 August 1597
HUBBERD
Thomas
19 August 1597
MAWLDEN
John
26 July 1598
MALDEN
Thomas

[blank]

1598
HOLDER
Anne
25 November 1598
MALDEN
Anne
27 [26?] February 1598
MARSHALL
Edward [son of Edward Marshall, Minister of this Parish]
2 March 1598
MALDEN
Rychard
8 June 1599
RAINERD

(B.T. RAYNER)

Agnes

The Burial Register for the Parish of Wimpole continues at (Page 2) 1600-1699.
[Original transcript by T P R Layng, 1983]



This page was last updated on: 25 September 2020.


St Andrew's Parish Church, Wimpole
A living church for the Parish of Wimpole, located within the National Trust's Wimpole
Hall Estate. The Church is managed and maintained by the Parochial Church Council.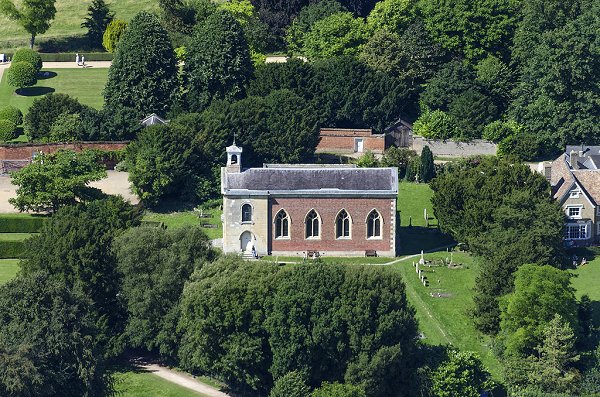 Aerial View of St Andrew's Parish Church 2016.
Wimpole Rectory is on the right.
By agreement © John Fielding 2016, all rights reserved.