A local history and genealogy site for Wimpole, a village and parish in South Cambridgeshire
Curated by Steve Odell



Home
Church Hub
Parish Register Hub
Chicheley Family
The Communion Plate c1650


(Richard Blackwell II the younger

)

St Andrew's Parish Church, Wimpole
A local history and genealogy site for the Parish of Wimpole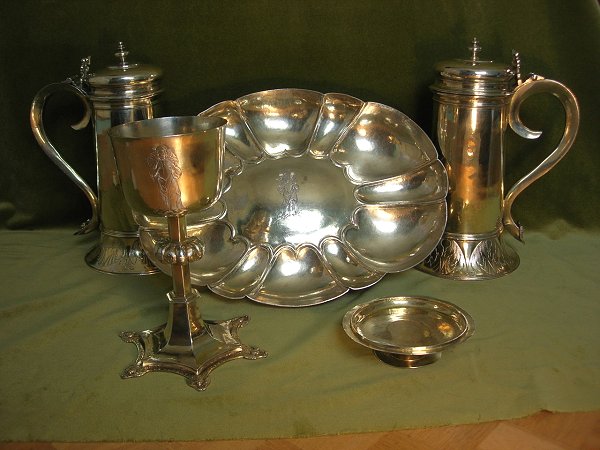 The Set of Communion Plate
St Andrew's Parish Church, Wimpole
For the avoidance of any doubt, may I emphasise to those of a possibly acquisitive nature that the Communion Set is not kept, stored or left in the Church at any time.
The Hound Sejant

St Andrew's Parish Church, Wimpole, owns a set of communion plate dating from the mid-1650s, the time of the English Commonwealth. This was subsequently presented to the church in 1679 by Sir Thomas Chicheley (1614-1698), the builder of Wimpole Hall and Master of the Ordnance and Privy Councillor to Charles II.
The Commonwealth (1649–60) saw the destruction of huge amounts of family silver; moreover the Puritans despised ostentatious displays of wealth and disapproved of depictions of Christ, so much church plate was also destroyed or defaced. The few objects that were made in silver during this period were generally small with minimal decoration; more substantial pieces such as Wimpole's communion set are extremely rare indeed.
The set comprises a silver-gilt chalice and paten, 2 silver-gilt flagons and a silver fluted oval alms dish all decorated with a 'Good Shepherd' design. Until recently, the goldsmith was unknown and was referred to only by his maker's mark, 'the hound sejant' - a seated heraldic greyhound. However, an article in the 2003 Silver Society Journal by Eric Smith, a former member of the silver department at Bonhams' auctioneers, has now identified the maker as Richard Blackwell II the younger, the son of another Richard Blackwell, who was also a distinguished goldsmith. His clients were royal, or moved in royalist circles, and much of his work consisted of plate for private Anglican chapels or churches with aristocratic patrons, or colleges.
Research for the article included an examination of our silver carried out in the summer of 2003 by Christopher Hartop, a leading authority on early English silver and a former director of Christies' auction house in New York. Other examples of church plate by the hound sejant maker are to be found in Gloucester, Rochester and St Paul's cathedrals, the Victoria and Albert Museum, the Royal Collection of Her Majesty the Queen, the Metropolitan Museum of Art (New York), and a handful of parish churches.
David Owen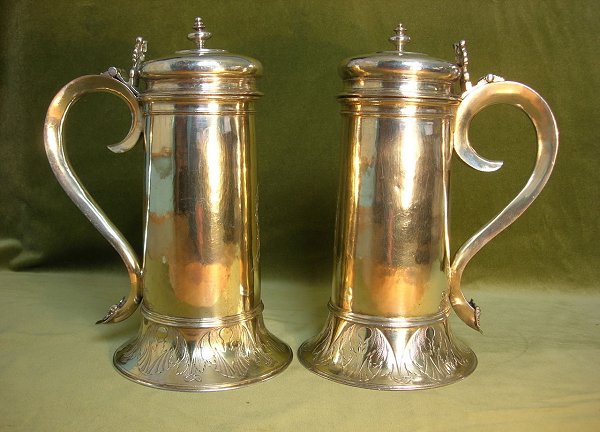 The Two Silver-Gilt Flagons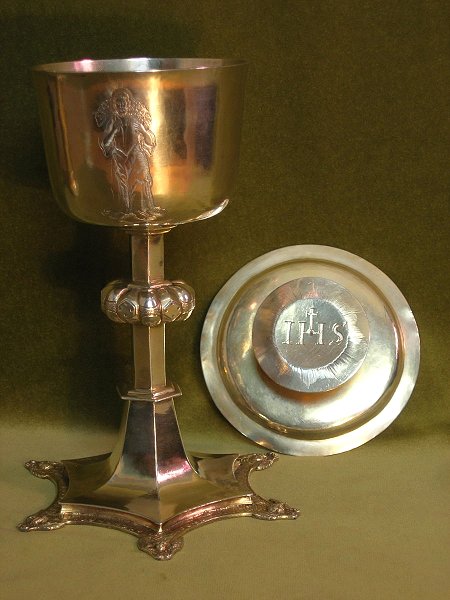 The Silver-Gilt Chalice and Paten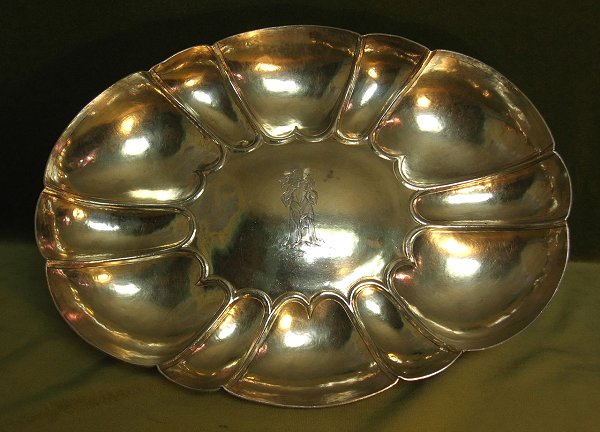 The Silver Fluted Oval Alms Dish


This page was last updated on: 14 April 2020.


St Andrew's Parish Church, Wimpole
A living church for the Parish of Wimpole, located within the National Trust's Wimpole
Hall Estate. The Church is managed and maintained by the Parochial Church Council.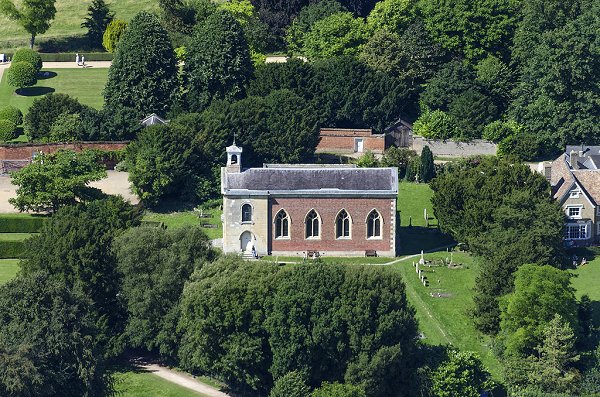 Aerial View of St Andrew's Parish Church 2016.
Wimpole Rectory is on the right.
By agreement © John Fielding 2016, all rights reserved.