A local history and genealogy site for Wimpole, a village and parish in South Cambridgeshire.
Curated by Steve Odell.



Home
Church Hub
Churchyard Register
Churchyard Plans




The Parish Registers
St Andrew's Parish Church, Wimpole

Index to Information Pages



St Andrew's Parish Church, Wimpole
A living church for the Parish of Wimpole, located within the National Trust's Wimpole Estate.
The Church is managed and maintained by the Parochial Church Council.


Parish Registers:

[.org]


As transcribed by T.P.R.Layng in April 1983 [Notes]
In medieval times there were no parish registers. Through the efforts of Thomas Cromwell in 1538 a mandate was issued by Henry VIII for churches to maintain parish records. This ordered that every parson, vicar or curate was to enter in a book every wedding, christening and burial in his parish. In 1558 Queen Elizabeth re-confirmed her father's mandate into law and many church records date from that year. Wimpole's own church records for baptisms, weddings and burials began in 1560.
In 1754, Lord Hardwicke's Marriage Act (and yes, that's our Lord Chancellor Hardwicke [1690-1764], interred in his memorial in Wimpole's Chicheley Chapel) required separate registers for banns and marriages. The act was passed to prevent clandestine and under-age marriages. To make the Act more effective, a special printed form was devised which called for the signatures of the officiating minister, the two witnesses and those of the bride and groom. Wimpole's church records for banns and marriages in the new format began in 1754.

[All the Parish Register pages listed below have been rebuilt and transferred to the .org domain during March/April 2019. I am now making a comparison check against other available transcriptions. Some corrections and additions already made to earlier versions]
Baptisms:
1560-1599 1600-1699* 1700-1799* 1800-1863**
* Awaiting transcription
** Being transcribed. Years 1800-1817 are available in full but the page is incomplete.

Banns:
1755-1871
Marriages:
1560-1599 1600-1699 1700-1799 1800-1863
Burials:
1560-1599 1600-1699 1700-1799 1800-1863
Wimpole Names (Alphabetical Index)
An alphabetical index [originating before the era of internet search engines...] of over 1000 Wimpole surnames found in the Parish Registers and other local sources. I've retained and extended (in 2019) the page on this new site as the information is still a useful index in family name searches.

The Wimpole Rectors
Known Rectors from 1291 to 1955.

Churchyard Records:
[.org]

Although not part of the formal Parish Registers, St Andrew's Parish Church also maintains records of burials/interments and known graves in the Churchyard.
[The pages in this section were rebuilt and transferred to the .org domain during February/March 2019]
Churchyard Register
Alphabetical Index to Known Graves and Monumental Inscriptions
Burials and Interments updated to September 2018.
Links to over 100 photographs added.
Churchyard Plans
(1) Churchyard Plan with Key showing locations of Known Graves.
(2) Memorial Garden Plan with Key showing locations of Interment Plots.

The Yorke Family Vault
The Vault under the Chicheley Chapel. Resting place of the 4th Earl of Hardwicke.

Notes on the 1560-1863 Transcripts
[From the Title Page to the Transcriptions]

[Hard copy on paper, duplicated, maintained in folder.]
"Transcribed by
T.P.R.Layng
April 1983
"Wimpole, Cambridgeshire
"Christenings 1560-1863
Marriages 1560-1863
Banns 1754-1863
Burials 1560-1863
"I have collated the register with the Bishop's Transcripts 1599-1812 but there are no B.T's for 1601, 1631, 1642 to 1662, 1668 to 1671, 1682, 1692 to 1696, 1698, 1701, 1703, 1704, 1706, 1707, 1709, 1712, 1715 to 1718, 1720 to 1722 and 1805.
"The first page of the earliest register contains the following: "This book was new bound May 1679 with the addition of some leaves of parchment. Those that were baptised from the year 1603 to the year 1618 were torn out of this book by the Parliament soldiers in the time of the civil war." [Doubt is thrown on this elsewhere in the register]
"The communion plate was given by the Rt Hon Sir Thomas CHICHELEY, Master General of the Ordinance and Privy Councillor to King Charles II in 1679."
"Registers contain annotations apparently in the handwriting of Robert PLUMTRE, notes on a storm in 1843, hard winter of 1844-45, the visit of Queen Victoria in 1843, church plate, glebe, tithes, brasses and restoration of the church, and the wills of Edmund BOULTEN and - BEHO, coachman to Lord Radnor dated 1757.
"The Bishop's Transcript for 1599 states: we so also present Anne TITUN for forbidding George MORE banns of Matrimony in the Church.
"I have copied a list of Rectors which have been indexed R.
"I have not indexed godparents or witnesses to marriages.
"This has been typed by C.L. and A E Hatton."
From the "Cambridge Evening News" of May 1977
"Births, marriages and deaths have become a way of life for Mr Peter Layng. For he has spent the last 11 years copying out parish registers. The first register he copied was of Stapleford when he was researching his wife's side of the family and his hobby took off from there. Now he spends almost every morning at the County Record Office and is working on his 45th register. He has copied out big registers such as Bassingbourn as well as small ones like Tadlow. His lists are typed up in quadruplicate by Mr Colin Hatton and his wife Angela."
This page was last updated on: 24 April 2019.


St Andrew's Parish Church.


A living church for the Parish of Wimpole, located within the National Trust's
Wimpole Hall Estate.
The Church is managed and maintained by the Parochial Church Council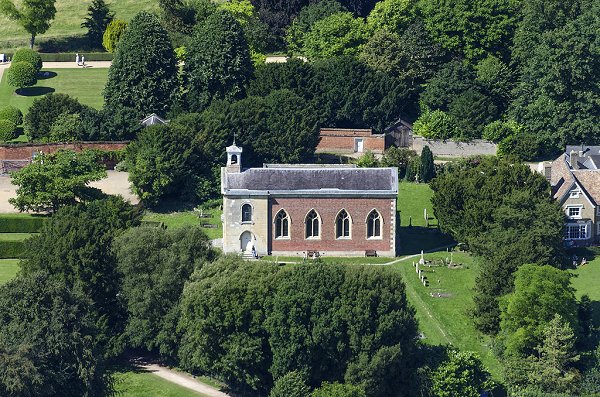 Aerial View of St Andrew's Parish Church 2016.
With permission, © John Fielding 2016, all rights reserved.