A local history and genealogy site for Wimpole, a village and parish in South Cambridgeshire
Curated by Steve Odell



Home
(2) Baptisms 1600-1649
(4) Baptisms 1700-1749
Church Hub
Baptisms 1650-1699 for the

Parish of Wimpole

(Part Three)


From the Parish Registers



St Andrew's Parish Church, Wimpole
A local history and genealogy page for the Parish of Wimpole.

St Andrew's Parish Church.
A living church for the Parish of Wimpole, located within the National Trust's Wimpole Hall Estate.
The Church is managed and maintained by the Parochial Church Council.
My thanks and acknowledgments to the Parochial Church Council for Wimpole and St Andrew's Parish Church for allowing the online publication of the Church Registers.
Listings prior to 1864 are based on the Church Registers for the Parish of Wimpole, as transcribed and collated by T P R Layng in March 1983. Originally typed by C L and A E Hatton.
The transcription by T P R Layng concludes on 4 October 1863. The transcription following this date is by Julia Thorogood with contributions by John Steadman. Additional research for this website is by Steve Odell.
In medieval times there were no parish registers. Through the efforts of Thomas Cromwell in 1538 a mandate was issued by Henry VIII for churches to maintain parish records. This ordered that every parson, vicar or curate was to enter in a book every wedding, baptism and burial in his parish. In 1558 Queen Elizabeth re-confirmed her father's mandate into law and many church records date from that year. Wimpole's own church records for baptisms, weddings and burials began in 1560.
Unless otherwise stated, the dates shown record the date of the baptism/christening service at Wimpole Parish Church, not the date of birth of the child. In cases of significant illness or impending death, some Baptisms/Christenings would have been performed by the Rector at the child's home.
It was the convention for the baptism/christening service to be held within a week or so of birth. However, there was no law to enforce baptisms within any set time (beyond incurring the not insignificant displeasure of the local Rector!) and many examples in the Registers show baptisms being carried out months or even years after birth. Some children were never baptised, especially those from Nonconformist families.
The original spelling of names in the Registers (as transcribed) has been retained.
In England and Wales, up to 1751, the New Year began on the 25th March (Lady Day).
Information, notes, observations, and comments additional to the original text are generally shown within [square brackets] and in italics.
This transcription has been reset to facilitate name searches in "name" format (ie forename/surname within quote marks). See the 'Searching for Names' box below for further search options.
I would be pleased to hear from you if you can offer any additional genealogical or family information relevant to this page, especially if you possess old photographs that could be added to the more general site for those who follow. Please use the site's Contact Page in the first instance.
| | |
| --- | --- |
| Key: | |
| (BT: ) | indicates the entry as shown in the Bishop's Transcripts 1599-1812 where it differs from the entry in the local church register. |
| [PR: ] | Additional information from the Parish Registers. |
| [C: ] | I have compared the Layng transcript with the commercially available Cambridgeshire Family History Society transcription. Any significant differences are indicated thus. Local parish records on CDs can be purchased from the society. |
Some Surname Variations (Wimpole Registers, approx 1560-1700):
Barford, Berford, Barfoote
Chicheley, Chichelie, Chichely
Daintry, Daintrye, Deantrye, Daintree
Eaworth, Ewarth, Euworth
Feakes, Feekes, Farks
Godfrey, Godrey, Godfre, Godferie, Godfry
Heyward, Heaward, Heiward, Haward
Hubbard, Hubbert, Hubberd
Jepson, Gipson

Malden, Mawlden, Maldin, Maulden, Malldin, Maldenn, Haldenn
Rutterforth, Rutterforthe, Rutterford, Rutter, Rutt, Hutter
Salmon, Sammon, Samon
Seemer, Seamer, Semer
Slinite, Slinet, Slinnit, Slinett, Slennet, Slinnett
Slipper, Slypper
Spicer, Spyser
Stokes, Stookes, Stockes
Titon, Tyton
Wayman, Waiman, Wayment, Weman
This page will shortly be transcribed.
Continued from the Baptisms for the Parish of Wimpole: (Part Two) 1600-1649
[Original transcript by T P R Layng 1983]

| | | |
| --- | --- | --- |
| | | |
| 27 May 1650 | RUTTERFORD | Elizabeth Rutterford, daughter of William Rutterford and Mary. |
| 3 November 1650 | CONSTABLE | Martha Constable, daughter of William Constable and Mary. |
| 24 February 1650 | HARVY | Margarett Harvy, daughter of John Harvy and Annis. |
| 24 February 1650 | MORE | Thomas More, son of John More and Rhoda. |
| 9 March 1650 | STOAKES [Stokes] | John Stoakes, son of John Stoakes and Joan. |
| 23 March 1650 | PICKIN | Ann Pickin, daughter of John Pickin and Alice. |


This page was last updated on: 03 March 2020.


St Andrew's Parish Church, Wimpole
A living church for the Parish of Wimpole, located within the National Trust's Wimpole
Hall Estate. The Church is managed and maintained by the Parochial Church Council.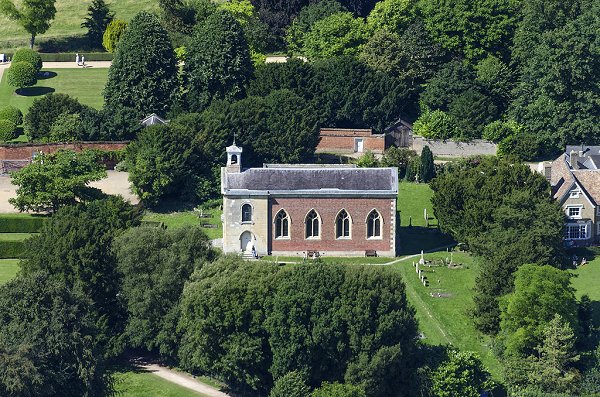 Aerial View of St Andrew's Parish Church 2016.
Wimpole Rectory is on the right.
By agreement © John Fielding 2016, all rights reserved.