A local history and genealogy site for Wimpole, a village and parish in South Cambridgeshire
Curated by Steve Odell



Home
Parish Register Hub
Queen Victoria's Journal
David Ellison
'Wimpole Amuses Victoria'
An Account of Queen Victoria's Visit to Wimpole Hall, 26 to 28 October 1843.
Credit: David Ellison - Ellison's Editions - Booklet published in 1981.
This is a local history and genealogy page for the Parish of Wimpole.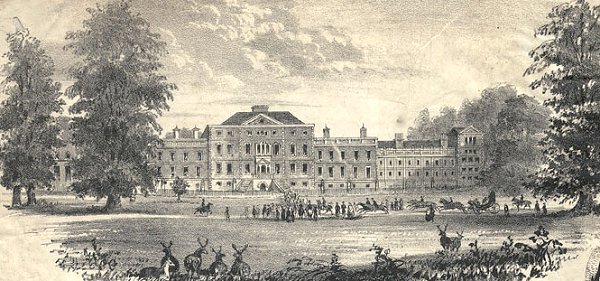 A print published by the 'Pictorial Times' (p.153, Issue 33, 28 October 1843) to mark
the Queen's visit, showing her Post-chaise arriving at Wimpole Hall.
This page is under development.

'Wimpole Amuses Victoria' is a 24-page A5-sized booklet plus a 4-page outer cover in thin card which was published in 1981 by Ellisons' Editions, a history series by David Ellison. The pages of 'Wimpole Amuses Victoria' were typed by hand onto a duplicating stencil and reproduced using an ink duplicator. The outer cover is printed. The booklet was published as a limited edition of 500 individually numbered copies, 81 of which were ordered in advance of publication. I have numbers 66 and 199 in my collection.
The booklet describes the visit of Queen Victoria to Wimpole Hall from Thursday 26 to Saturday 28 October 1843.
The numbered footnotes and additional comments [within square brackets and in italics] are mine. - Steve Odell.

[Above: Front Cover]
"WIMPOLE AMUSES VICTORIA"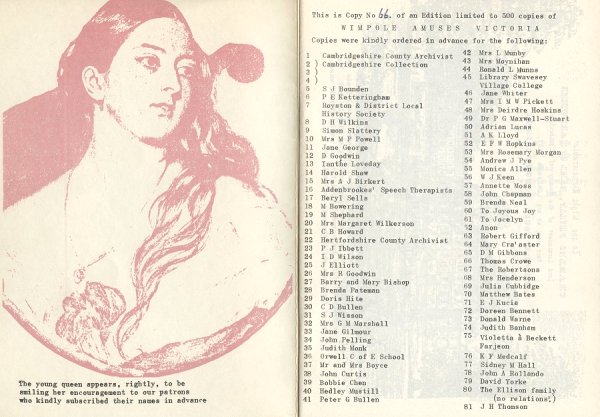 [Left above: Inside Front Cover]
The young queen appears, rightly, to be smiling her encouragement to our patrons who kindly subscribed their names in advance.

[Right above: Page i]
This is copy No 66 of an Edition limited to 500 copies of
'Wimpole Amuses Victoria'


Copies were kindly ordered in advance for the following:
1. Cambridgeshire County Archivist
2. Cambridgeshire Collection
3. Cambridgeshire Collection
4. Cambridgeshire Collection
5. S J Bounden
6. P E Ketteringham
7. Royston & District Local History Society
8. D H Wilkins
9. Simon Slattery
10. Mrs M P Powell
11. Jane George
12. D Goodwin
13. Ianthe Loveday
14. Harold Shaw
15. Mrs A J Birkert
16. Addenbrookes' Speech Therapists
17. Beryl Sells
18. M Bowering
19. M Shephard
20. Mrs Margaret Wilkerson
21. C B Howard
22. Hertfordshire County Archivist
23. P J Ibbett
24. I D Wilson
25. J Elliott
26. Mrs R Goodwin
27. Barry and Mary Bishop
28. Brenda Pateman
29. Doris Hite
30. C D Bullen
31. S J Wisson
32. Mrs G M Marshall
33. Jane Gilmour
34. John Pelling
35. Judith Monk
36. Orwell C of E School
37. Mr and Mrs Boyce
38. John Curtis
39. Bobbie Chen
40. Hedley Mustill
41. Peter G Bullen


42. Mrs L Munby
43. Mrs Moynihan
44. Ronald L Munns
45. Library, Swavesey Village College
46. Jane Whiter
47. Mrs I M W Pickett
48. Mrs Deirdre Hoskins
49. Dr P G Maxwell-Stuart
50. Adrian Lucas
51. A K Lloyd
52. E F W Hopkins
53. Mrs Rosemary Morgan
54. Andrew J Pye
55. Monica Allen
56. W J Keen
57. Annette Moss
58. John Chapman
59. Brenda Neal
60. To Joyous Joy
61. To Jocelyn
62. Anon
63. Robert Gifford
64. Mary Cra'aster
65. D M Gibbons
66. Thomas Crowe [now in my possession]
67. The Robertsons
68. Mrs Henderson
69. Julia Cubbidge
70. Matthew Bates
71. E J Kucia
72. Doreen Bennett
73. Donald Warne
74. Judith Banham
75. Violette a Beckett Farjeon
76. K F Medcalf
77. Sidney M Hall
78. John A Rollando
79. David Yorke
80. The Ellison family (no relation!)
81. J H Thomson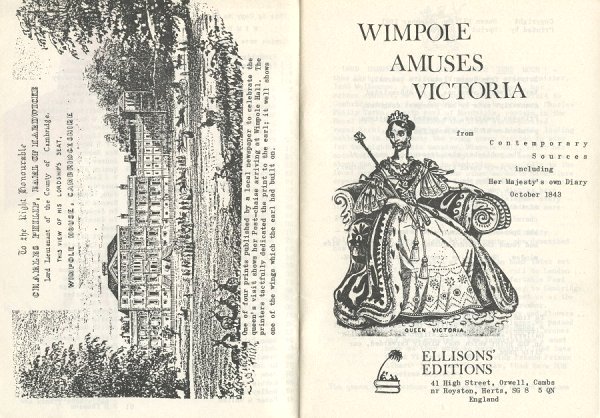 [Left above: Page ii]
"To the Right Honourable Charles Philip, Earl of Hardwicke, Lord Lieutenant of the County of Cambridgeshire. This view of his Lordship's Seat, Wimpole House, Cambridgeshire."
"One of four prints published by a local newspaper to celebrate the queen's visit shows her Post-chaise arriving at Wimpole Hall. The printers tactfully dedicated the print to the earl; it well shows one of the wings which the earl had built on."
[The adapted image used here clearly shows the limitations of stencil duplicated graphics. A better reproduction of the initial image is at the top of the page. This image with the added title was published in a supplement issued with the 'Cambridge Chronicle'.]
[Right above: Title Page]
Wimpole Amuses Victoria
from Contemporary Sources, including Her Majesty's own Diary, October 1843.
Ellison's Editions, 41 High Street, Orwell, Royston, Cambs, SG8 5QN, England.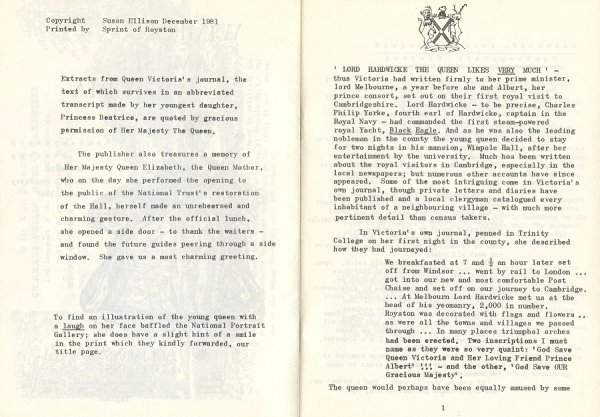 [Left above: Page iv]
Copyright Susan Ellison, December 1981.
Printed by Sprint of Royston.
Extracts from Queen Victoria's journal, the text of which survives in an abbreviated transcript made by her youngest daughter, Princess Beatrice, are quoted by gracious permission of her Majesty the Queen.
The publisher also treasures a memory of Her Majesty Queen Elizabeth, the Queen Mother, who on the day she performed the opening to the public of the National Trust's restoration of the [Wimpole] Hall, herself made an unrehearsed and charming gesture. After the official lunch, she opened a side door - to thank the waiters - and found the future guides peering through a side window. She gave us a most charming greeting.
To find an illustration of the young queen with a laugh on her face baffled the National Portrait Gallery; she does have a slight hint of a smile in the print which they kindly forwarded, our title page.

[Right above: Page 1]
'LORD HARDWICKE THE QUEEN LIKES VERY MUCH' - thus Victoria had written firmly to her prime minister, lord Melbourne, a year before she and Albert, her prince consort, set out on their first royal visit to Cambridgeshire.
Lord Hardwicke - to be precise, Charles Philip Yorke, fourth earl of Hardwicke, captain in the Royal Navy - had commanded the first steam-powered royal Yacht, Black Eagle

[1]

. And as he was also the leading nobleman in the county the young queen decided to stay for two nights in his mansion, Wimpole Hall, after her entertainment by the university. Much has been written about the royal visitors in Cambridge, especially in the local newspapers; but numerous other accounts have since appeared. Some of the most intriguing come in Victoria's own journal, [though] private letters and diaries have been published and a local clergyman catalogued every inhabitant of a neighbouring village - with much more pertinent detail than census takers.
In Victoria's own journal, penned in Trinity College on her first night in the county, she described how they had journeyed [see also Queen Victoria's Journal for extended text]:
"We breakfasted at 7 and ½ an hour later set off from Windsor... went by rail to London got into our new and most comfortable Post Chaise and set off on our journey to Cambridge... At Melbourn Lord Hardwicke met us at the head of his yeomanry, 2,000 in number. Royston was decorated with flags and flowers..., as were all the towns and villages we passed through... In many places triumphal arches had been erected. Two inscriptions I must name as they were so very quaint: 'God Save Queen Victoria and her Loving Friend Prince Albert'!!! - and the other, 'God Save OUR Gracious Majesty!!"
The queen would perhaps have been equally amused by some
[continued below]
[1] Preliminary research indicates Black Eagle, a steam-powered paddlesteamer, was not the Royal Yacht, although it was in the Royal Squadron. It also appears Hardwicke captained her in 1844 and 1845, ie after the visit to Wimpole Hall.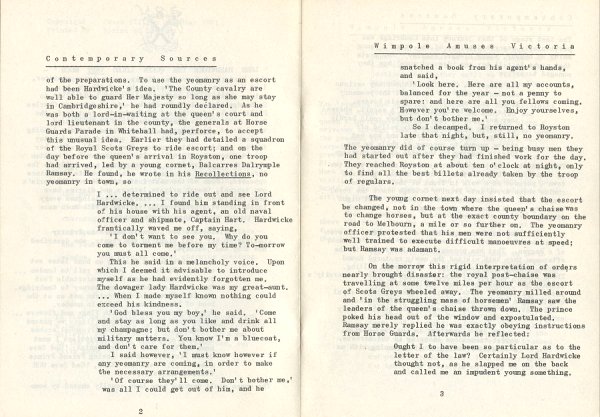 [Left above: Page 2]
of the preparations. To use the yeomanry as an escort had been Hardwicke's idea. 'The County cavalry are well able to guard Her Majesty so long as she may stay in Cambridgeshire,' he had roundly declared. As he was both a lord-in-waiting at the queen's court and lord lieutenant in the county, the generals at Horse Guards Parade in Whitehall had, perforce, to accept this unusual idea. Earlier they had detailed a squadron of the Royal Scots Greys to ride escort; and on the day before the queen's arrival in Royston, one troop had arrived, led by a young cornet

[1]

, Balcarres Dalrymple Ramsay. He found, he wrote in his "Recollections"

[2]

, no yeomanry in town, so
I... determined to ride out and see Lord Hardwicke... I found him standing in front of his house with his agent, an old naval officer and shipmate, Captain Hart

[3]

. Hardwicke frantically waved me off, saying,
'I don't want to see you. Why do you come to torment me before my time? To-morrow you must all come.'
This he said in a melancholy voice. Upon which I deemed it advisable to introduce myself as he had evidently forgotten me. The dowager lady Hardwicke was my great-aunt...
When I made myself known nothing could exceed his kindness.
'God bless you my boy,' he said. 'Come and stay as long as you like and drink all my champagne; but don't bother me about military matters. You know I'm a bluecoat

[4]

, and don't care for them,'
I said however, ' I must know however if any yeomanry are coming, in order to make the necessary arrangements.'
'Of course they'll come. Don't bother me,' was all I could get out of him, and he
[continued below]
[1] Cornet was originally the lowest grade of commissioned officer in a British cavalry troop; the modern equivalent being a second lieutenant. The rank was abolished in 1871.
[2] "Rough Recollections of Military Service and Society" Vol 2 (1882) by Balcarres Dalrymple Wardlaw Ramsay.
[3] Francis Hart, Commander Royal Navy (c1796-1845).

Steward to the 4th Earl of Hardwicke for 10 years

. Buried in Wimpole churchyard. "He was a faithful and zealous servant."
[4] A naval officer, from the colour of the formal Royal Navy "best" or "dress" uniforms.

[Right above: Page 3]
snatched a book from his agent's hands, and said, 'Look here. Here are all my accounts, balanced for the year — not a penny to spare: and here are all you fellows coming. However you're welcome. Enjoy yourselves, but don't bother me,' So I decamped. I returned to Royston late that night, but, still, no yeomanry.
The yeomanry did of course turn up - being busy men they had started out after they had finished work for the day. They reached Royston at about ten o'clock at night, only to find all the best billets already taken by the troop of regulars.
The young cornet next day insisted that the escort be changed, not in the town where the queen's chaise was to change horses, but at the exact county boundary on the road to Melbourn, a mile or so further on. The yeomanry officer protested that his men were not sufficiently well trained to execute difficult manoeuvres at speed; but Ramsay was adamant.
On the morrow this rigid interpretation of orders nearly brought disaster: the royal post—chaise was travelling at some twelve miles per hour as the escort of Scots Greys wheeled away. The yeomanry milled around and 'in the struggling mass of horsemen' Ramsay saw the leaders of the queen's chaise thrown down. The prince poked his head out of the window and expostulated. Ramsay merely replied he was exactly obeying instructions from Horse Guards, Afterwards he reflected:
'Ought I to have been so particular as to the letter of the law? Certainly Lord Hardwicke thought not, as he slapped me on the back and called me 'an impudent young something.'
[continued below]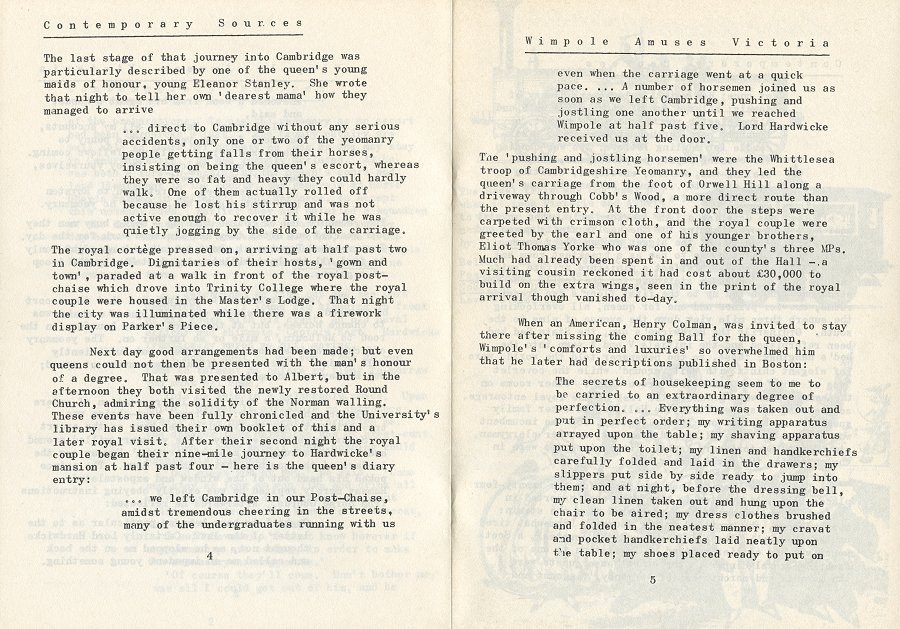 [Left above: Page 4]
[Thursday 26 October 1843]
[continued below]
[Right above: Page 5]
[continued below]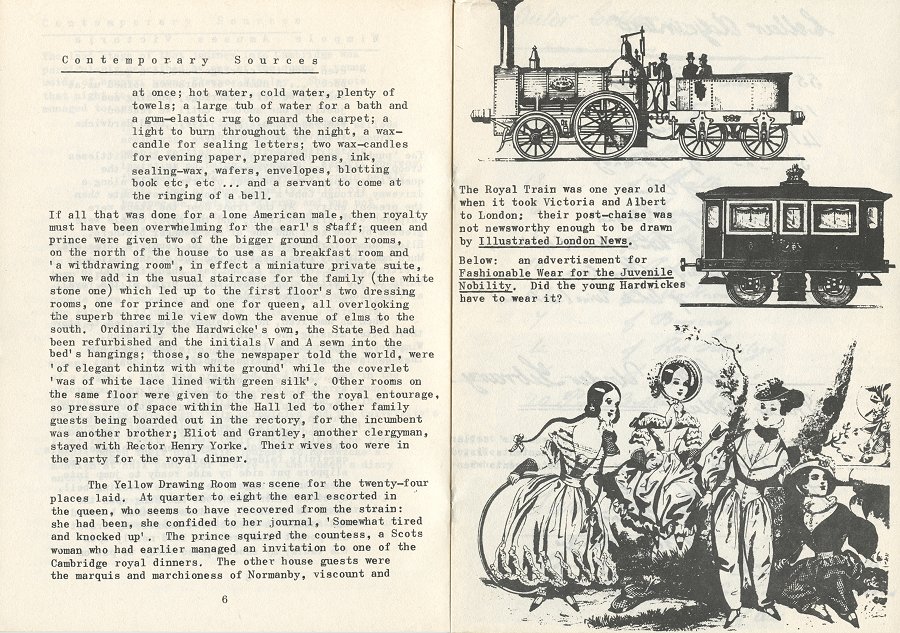 [Left above: Page 6]
[continued below]
[Right above: Page v]
[continued below]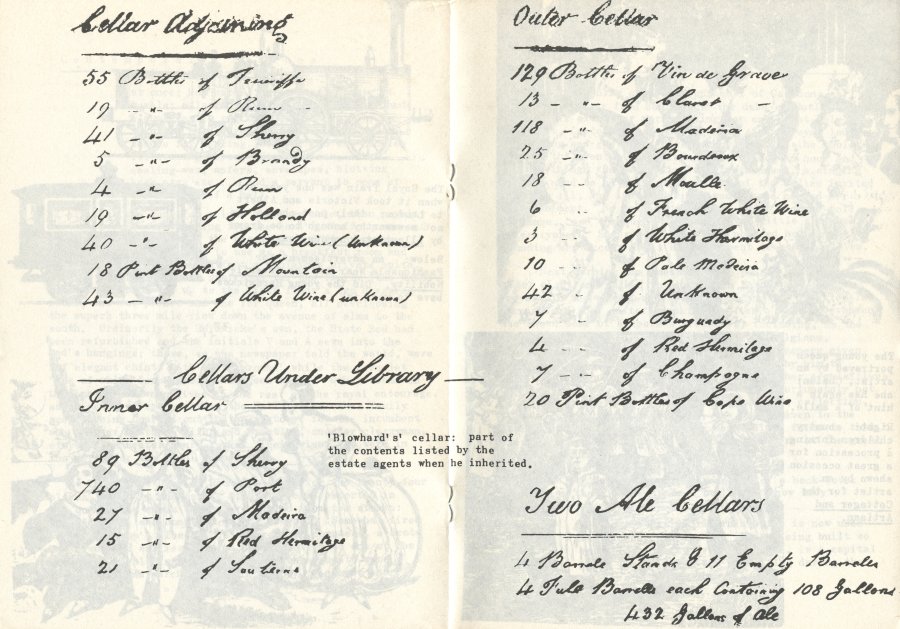 [Above: Pages vi and vii]
'Blowhard's' cellar: part of the contents listed by the estate agent when he inherited.
[continued below]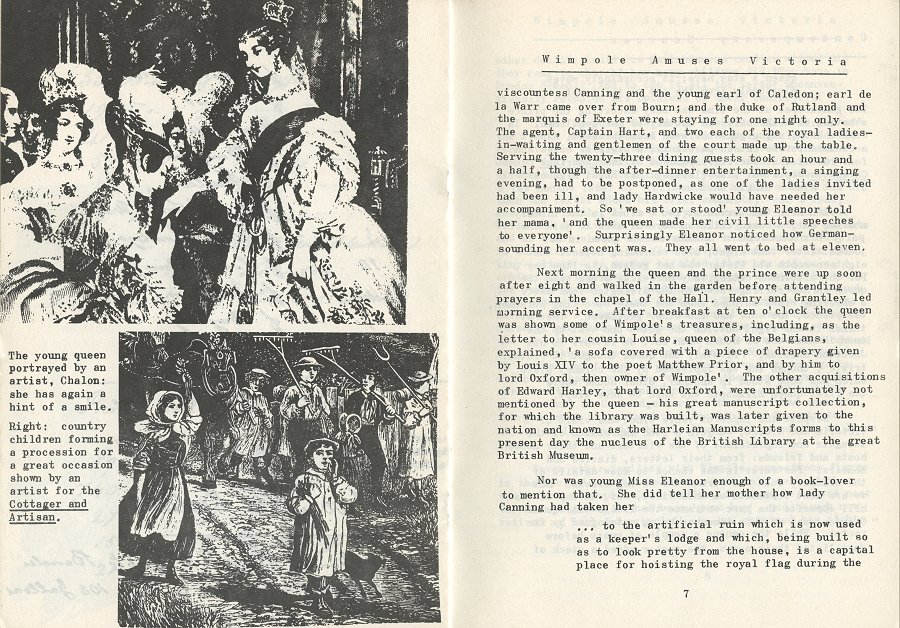 [Left above: Page viii]
[Top] The young queen portrayed by an artist, Chalon: she has again a hint of a smile. ['The Presentation'; 1840 Etching, a young woman curtseying and kissing the hand of the young Queen Victoria standing at right; after Alfred Edward Chalon, proof illustration to Lady Blessington's 'The Belle of the Season', in the British Museum collection.]
[Bottom] Country children forming a procession for a great occasion shown by an artist for the "Cottager and Artisan".
[Right above: Page 7]
[continued below]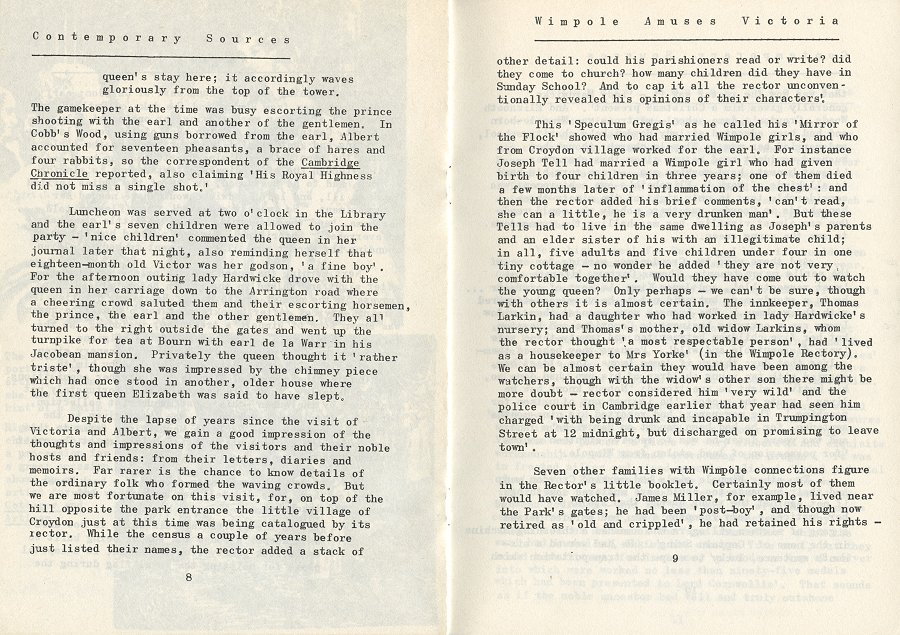 [Left above: Page 8]
[continued below]
[Right above: Page 9]
[continued below]
[Page 10]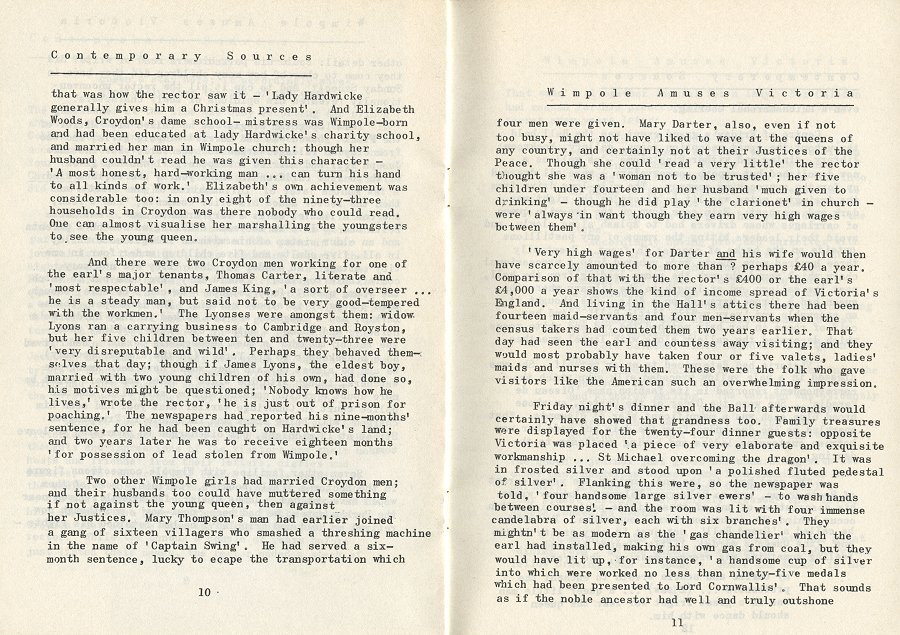 [Left above: Page 10]
[continued below]
[Right above: Page 11]
[continued below]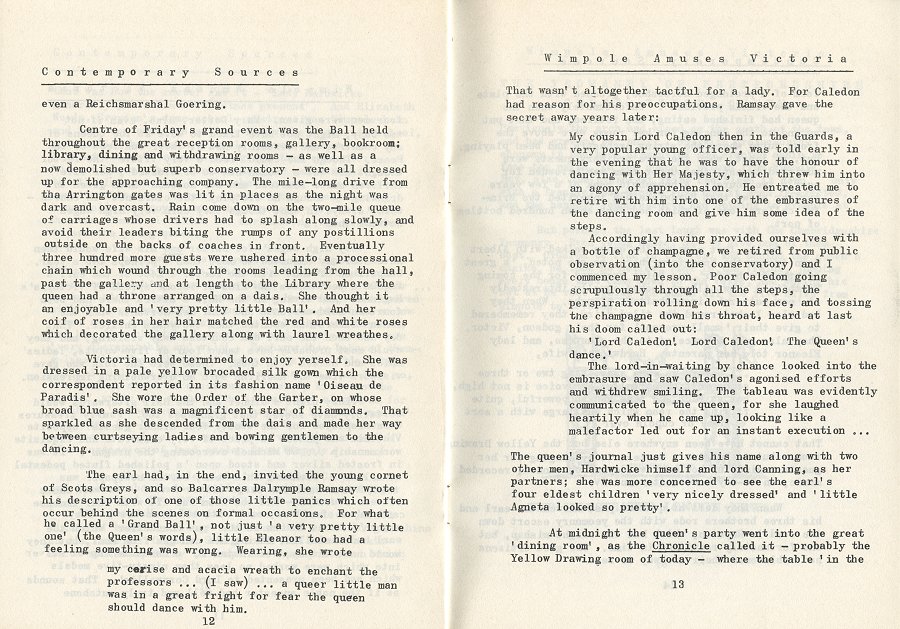 [Left above: Page 12]
[continued below]
[Right above: Page 13]
[continued below]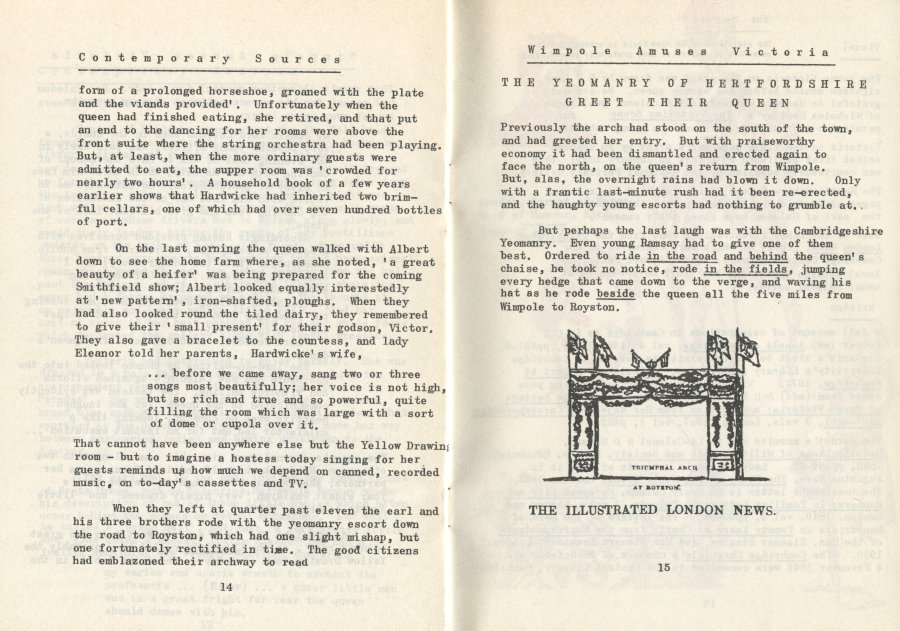 [Left above: Page 14]
[continued below]
[Right above: Page 15]
[continued below]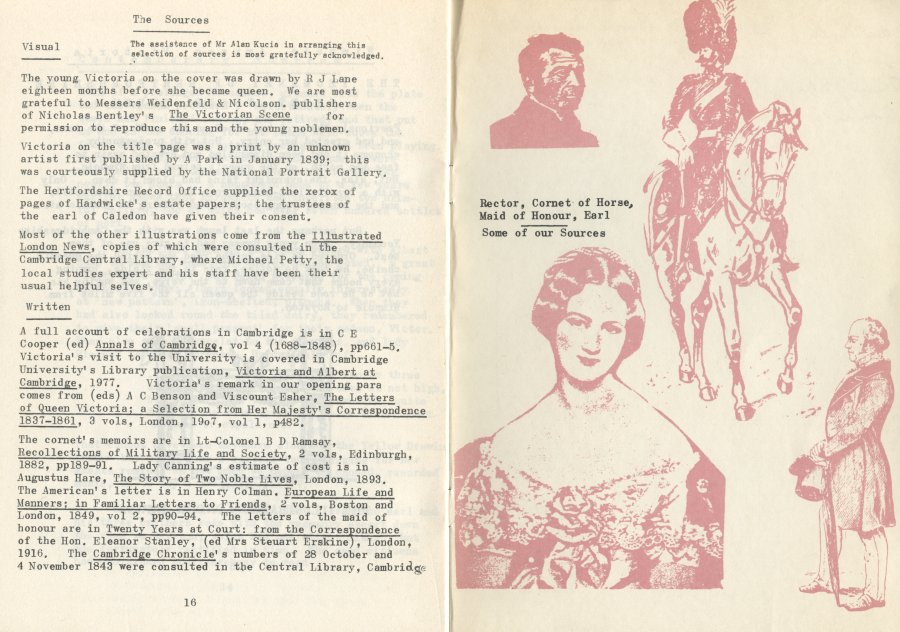 [Left above: Page 16]
[continued below]
[Right above: Inside Back Cover]
[continued below]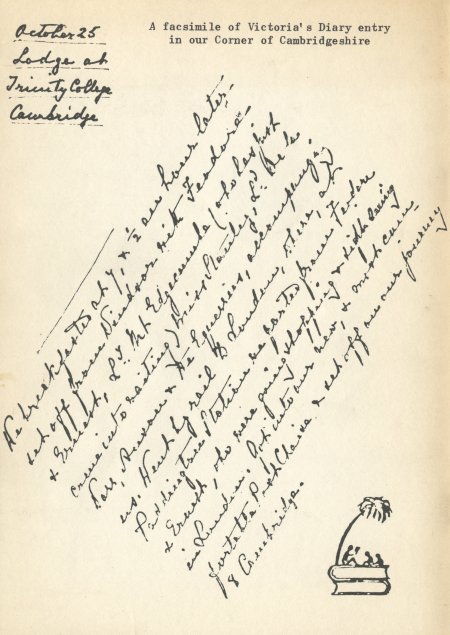 This page was last updated on: 10 August 2020.