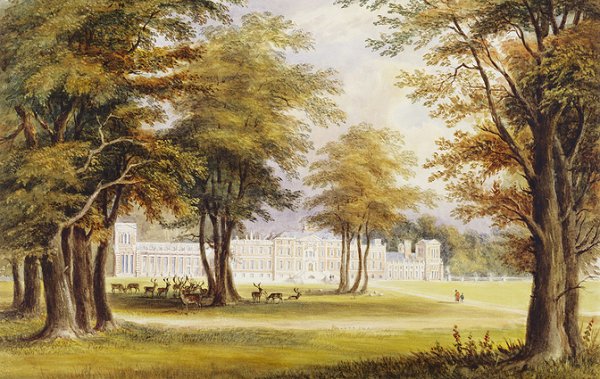 From Queen Victoria's Souvenir Album, II, folio 2
Watercolour by Hon. Georgiana Liddell (1822-1905) of Wimpole Hall.
Acquired by Queen Victoria. (© Royal Collection Trust). [See painting notes below]

The following are extracts from Queen Victoria's Journal held in the Royal Archives at Windsor Castle, detailing a visit to Wimpole Hall, then the seat of Charles Yorke RN, 4th Earl of Hardwicke. The Earl had been appointed a Lord-in-Waiting to the Queen in 1841. Two year's later, the Queen and the Prince Consort stayed at Wimpole for two nights (26 and 27 October 1843). On the second evening a Grand Ball for 800 guests was held. Queen Victoria was twenty four years of age at the time of the visit.
The following extracts were first printed in the "Orwell Bulletin", March 1980 issue [clearly just pre-dating the publication of the Ellison's "Wimpole Amuses Victoria" Booklet (Ellisons' Editions 1981)] now available on this website.
Extracts from Queen Victoria's journal, the text of which survives in an abbreviated transcript made by her youngest daughter, Princess Beatrice, were quoted by gracious permission of her Majesty the Queen.
[I have retained the text and Queen Victoria's use of abbreviations in full but have replaced the queen's numerous ampersands ('&') with 'and' for ease of reading. The numbered footnotes and any additional comments [within square brackets and in italics] are mine.]


Queen Victoria's Journal (Extracts)
Queen Victoria 1842
(studio of Franz Xaver Winterhalter).
Displayed at Wimpole Hall (National Trust).
Oil painting on canvas, A three-quarter-length portrait in a white dress with Garter star, holding a red and white rose. The Queen sat for the portrait between 8th and 25th June 1842.
This is a copy of the original held in the Royal Collection. Winterhalter was paid for the portraits and copies on 31st August. This copy was probably ordered by the 4th Earl of Hardwicke when Lord-in-Waiting to Queen Victoria (1841-1847).
Loaned to the National Trust by Lady Amabel Lindsay.
Wednesday 25 October 1843:
"We breakfasted at 7, and ½ an hour later, set off from Windsor with Feodora and Ernest, Lady Mount Edgcumbe

[a]

(who has just come into waiting), Miss Stanley, Lords de la Warr, Anson and the Equerries, accompanying us. Went by rail to London, where, at Paddington Station, we parted from Feodora and Ernest who were going shopping and sightseeing in London.
Got into our new, and most comfortable Post Chaise, and set off on our journey to Cambridge. The day cleared, as it advanced, and gradually became quite fine. We read, alternately, Albert and I, out of 1812, most of the way, and nearly finished the 2nd vol. It was really fearfully interesting, and we got quite engrossed in it. The description of the breaking out of the fire in Moscow is most vivid and thrilling.
We changed horses 1st at Manor House, next, at Waltham Cross, having passed through Tottenham, Edmonton and Enfield Wash. To the right, as one leaves Waltham Cross, stands one of those beautiful old Crosses, which were erected, wherever the body of Queen Eleanor (wife of Edward 1st) rested, but we passed by too quickly, to see it well. 3rdly we changed horses at Ware, having passed through Warenley [Wormley?], Broxbourne and Hadelisdon [Hoddesdon?]; 4thly at Buntingford (where we got out) after passing through Ward's Mill, Collier's End and Puckeridge; 5thly at Melbourne, passing before through Buckland, Reed Hill and Royston.
At Royston Lord Hardwicke met us, at the head of his Yeomanry, 2000 in number. Royston was decorated with flags and flowers and was full of people, as were all the towns and villages we passed through, and we were received most kindly. In many places triumphal arches has been erected. Two inscriptions I must name as they were so quaint: "Good save Queen Victoria and her loving friend, Prince Albert"!!! - and the other: "God save our Gracious Majesty"!!
The country from Royston is very flat and ugly. After Melbourne (sic) passed through Harlston and Trumpington, reaching Cambridge at ½ past 2. At the entrance to the town, we were met by the Mayor and Corporation, who walked before us. The town was densely crowded and much decorated and the reception given us very hearty. There is one very narrow street before one gets to Trinity College at the gates of which we were received by the Vice Chancellor (Professor Whewell, the Master of Trinity), and all the Dignitaries, and including Mr Goulburn. The Courtyard of the College is very large and handsome, with a fine fountain in the centre, built in the time of James IInd. The Courtyard was filled with the Scholars (about 2000) who gave us a most enthusiastic welcome. The Master presented the Keys, saying the College was placed at my service. We then drove to the Lodge…."
Thursday 26 October 1843:
[Prince Albert receives an honorary degree from the university, then]
"...At ½ past 4 we left Cambridge in our Post Chaise, amidst tremendous cheering in the streets, many of the Undergraduates running with us, even when the carriage went at a quick pace. Before I left, I had given Mrs Whewell a bracelet. Mr Goulburn told us as we went away that we had "gratified the people of Cambridge beyond measure" and we were both much pleased and gratified.
A number of horseman joined us as soon as we left Cambridge, riding with us, pushing and jostling one another, until we reached Wimpole, which we did at ½ past 5. Lord Hardwicke received us at the door. The house is large and comfortable, and we are very well lodged, having a Drawing Room on the ground floor, and up a private stairs, a nice bedroom and 2 dressing rooms. I felt somewhat tired and packed [or possibly "knocked"] up and rested till dinner, at 8.
We dined in a nice Dining Room, full of Family pictures and portraits. Beside Lord and Lady Hardwicke - the Normanbys, Cannings and Lord Caledon are staying in the house, the Duke of Rutland and Lord Exeter, only for the night, and Lord Hardwicke's 3 brothers, with their wives, dined. Lord Hardwicke led me in and sat next to me."
Friday 27 October 1843:
"Attended prayers in an old Chapel in the House, and then breakfasted, after which we walked out. It was very cold but fine. The pleasure grounds and gardens are very nice, and all, in excellent order. The house built of red brick, is large, and has two wings and two flights of steps outside. Albert went out shooting. We lunched downstairs with the company, in the Library, a fine large room, with a bow window. The 7 children

[1]

were there - nice children. Victor

[2]

, a year and a half old, is my godson, a fine boy, and the youngest of all is a fine baby boy

[3]

, 3 months old.
At 3 I drove with Lady Hardwicke, Lady Normanby, and Lady Mount

Edgcumbe

, Albert riding with Lord Hardwicke and the other gentleman. We drove over Bourne, Lord de la Warr's place, which is a curious old one, the house built of red brick, with stone facings, of the period of James 1st, and very well restored. There is a curious old chimney piece, which Lord de la Warr took out of a house in which Queen Elizabeth slept, and out of the very room. We walked around the gardens, which is quite in the old fashioned style. The place is rather small and rather 'triste'

[4]

.
On our return, I read to Albert a letter from Lord Ellenborough, giving an account of hostile dispositions, by some of the neighbouring chiefs, and enclosing a letter from Sir Charles Napier showing the fallacy of all the accusations against him. We dined at half past 7. The Duke of Rutland and Lord Exeter gone, but otherwise the same company with the addition of the High Sheriff and the 2 County members.
After dinner, we went into the gallery, which was full of guests, and there was a very pretty little Ball ["little" as in the sense of "800 guests"]. The room was beautifully decorated with flowers. All the masters of Colleges from Cambridge with their families and several of the young Nobility, and a number of the neighbours, the ladies being wonderfully well dressed, - were there. The 4 eldest Children appeared, very nicely dressed, and little Agneta looked so pretty. I danced three quadrilles, with Lord Hardwicke, Lord Canning, and Lord Caledon

[5]

[see 'Agonised by the Honour of Dancing with the Queen']. We went in to supper at 11, and after that to bed."
Saturday 28 October 1943:
"After our breakfast we walked to the Farm which is beautiful and we were shown a heifer being prepared for the Show at Smithfield, - a great beauty - also the young calves, pigs, and fowls. Albert was interested in examining the various ploughs. We also visited the Dairy, which is very pretty. At ¼ past 11, we left Wimpole, after I had given Lady Hardwicke a Bracelet, and my godson

[2]

a small present. Lord Hardwicke and his brothers accompanied us to Royston, 6 miles, where we first changed horses."
[a] Caroline Augusta (née Feilding), Countess of Mount Edgcumbe (1808-1881), wife of the 3rd Earl Mount Edgcumbe and a half-sister of Henry Fox Talbot. She had become a lady-in-waiting to Queen Victoria shortly before the visit to Wimpole.
[1]

Presumably Elizabeth Philippa Yorke, Charles Philip Yorke, Mary Catherine Yorke, Agneta Harriet Yorke, John Manners Yorke, Victor Alexander Yorke and Eliot Constantine Yorke,


[2]

Victor Alexander Yorke

.
[3]

Eliot Constantine Yorke

.
[4] 'triste': sad, mournful and/or wistful.
[5] James Du Pre Alexander, 3rd Earl of Caledon (1812–1855), was a soldier and politician. He was the son of the 2nd Earl of Caledon and Lady Catherine Yorke (daughter of the Third Earl of Hardwicke). He was Member of Parliament for Tyrone between 1837 and 1839. He succeeded to the title of Earl of Caledon in 1839. He was then elected to the House of Lords as a Representative Peer for Ireland in 1841. He gained the rank of captain in the service of the Coldstream Guards and was Colonel of the Tyrone Militia.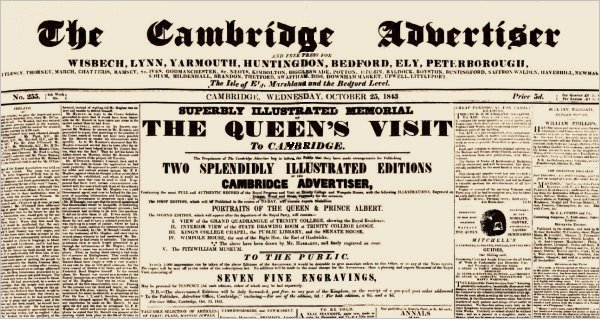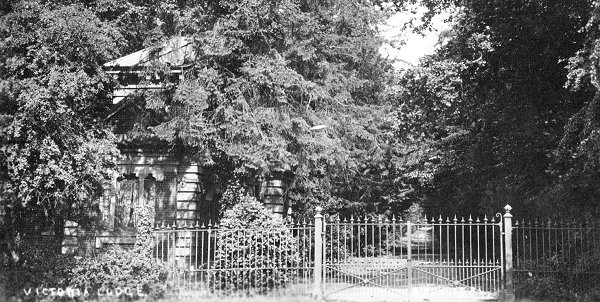 Victoria Drive
The editor of the Orwell Bulletin noted in 1980 that Queen Victoria and the Prince Consort drove from Cambridge along the Barton Road (now the A603) and then turned into the Wimpole estate at the eastern entrance (at the foot of Orwell Hill), before approaching the Hall along what became known as Victoria Drive. A new lodge (known thereafter as Victoria Lodge) [see later c1930 image above] was built at the entry to the drive especially for the Queen's visit. The lodge was demolished around 1950 but the drive and gates still exist on the north side of Cambridge Road (the A603), almost opposite Fishers Lane, Orwell.
Today Victoria Drive is used by horse riders, walkers, dog walkers and cyclists too. There's a wonderful variety of trees and plants here. Wildlife to be seen along the route includes hares and muntjac deer. But beware! Orwell oral tradition claims the Drive is haunted after dark by a ghostly coach and horses.
Image courtesy of Orwell Past and Present.

Title Image (above)
'View of Wimpole Hall from the South-West' c1843.
(Watercolour) The Hon Georgiana Liddell (1822-1905).
The Hon Georgiana Liddell, the youngest daughter of Thomas, 1st Baron Ravensworth, was maid of honour to Queen Victoria between 1841 and 1845, and produced a number of watercolours for her. Susan, Countess of Hardwicke (1810-1886), was one of Georgiana's older sisters. The Rev. Edward Liddell was rector of St Andrew's Church, Wimpole from 1872 to 1876.
This view records the alterations both made to and planned by H E Kendall for Wimpole in advance of Queen Victoria and Prince Albert's visit to Wimpole in 1843. Liddell must have had access to Kendall's and Alloms's drawings because the Conservatory, although clearly designed by 1843 was not cast in this form until 1870.
Delia Miller gives the provenance of this watercolour as SA II 2, ie from Souvenir Album II for the period 1843-1845, one of nine souvenir albums of views compiled by Queen Victoria and Prince Albert.
[text © from "Wimpole - Architectural drawings and topographical views" by David Adshead, published for the National Trust in 2007.]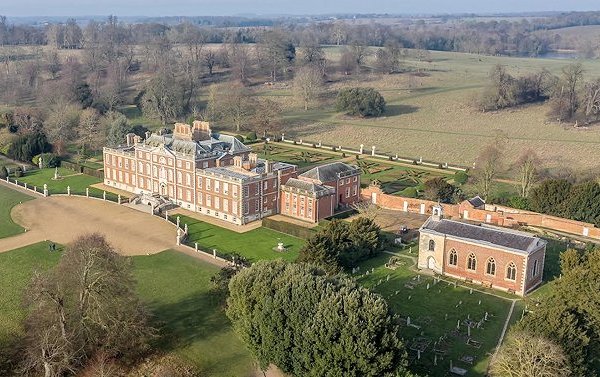 Aerial View of Wimpole Hall
Copyright © National Trust, all rights reserved.