Auction of Wimpole Hall and Estate
5 August 1891
Auction Prospectus


A local history and genealogy page for the Parish of Wimpole.


Charles Yorke, the fifth Earl of Hardwicke, who inherited Wimpole in 1873, led such an extravagant lifestyle that within fifteen years he had amassed such huge debts with the Agar-Robartes Bank that they forced the sale of the estate. However, the estate did not reach its reserve price in auction, and was taken over, in settlement of the debts, by the 2nd Lord Robartes in his capacity as Chairman of Agar-Robartes Bank.
"The sale (at the Mart) of the Wimpole Estate is fixed for August 5. The Estate will firstly be offered in its entirety; if not so sold, in twenty-five lots, but if Lot 1 - the Hall, park, and domain, - remain unsold, the other lots will be withdrawn." ['The Builder' July 18 1891]
Wimpole Estate Auction, August 1891
Introduction to Auction Prospectus
"Particulars, plans, illustrations and conditions of sale, of the magnificent freehold residential, sporting & manorial domain, known as Wimpole... Chiefly in Cambridgeshire (in the parishes of Abington Piggots, Arrington, Bourn, Great Eversden, Little Eversden, Kingston, Kneesworth, Litlington, Meldreth, Guilden Morden, Steeple Morden, Orwell, Shingay, Whaddon and Wimpole); and a small portion in Hertfordshire (in the parish of Ashwell).
"Wimpole Hall is one of the finest and best known mansions of England, and stands in a grandly timbered deer park of nearly 300 acres, ... Appurtenant to the estate are the manors or reputed manors of Steeple Morden, Pritchards, Shingay and Kingston, and also the advowson of the Rectory of Wimpole.
"The estate,... extends in all to about 11,111 acres... comprises the whole of the villages of Whaddon and Arrington, and parts of the villages of New Wimpole, Kingston, Great Eversden, Steeple Morden, Guilden Morden and Litlington.
"Messrs. Hamnett & Co. are honoured with instructions from the Trustees of the Earl of Hardwicke's Estate Act, to offer this grand estate by public auction, at the mart, Tokenhouse Yard, Bank of England, E.C., on Wednesday the 5th day of August, 1891, at two o'clock in the afternoon precisely. First as a whole, and if not so sold, then in numerous lots. (Unless and acceptable offer be previously made privately.)
"The mansion and estate may be viewed by special permission, for which and copies of these particulars, application must be made to Messrs. Collyer-Bristow, Russell & Hill, Solicitors, 4, Bedford Row, W.C.; Messrs. R.S. Taylor, Son & Humbert, Solicitors, 4, Field Court, Gray's Inn, W.C.; or to Messrs. Hamnett & Co., Auctioneers, 55, Pall Mall (opposite Marlborough House), S.W."
Auction particulars of the Wimpole Estate:
Wimpole Hall with deer park, 300 acres including Wimpole Tower and ruins in Wimpole, Arrington, Orwell and Kingston; advowson [the right to recommend a member of the Anglican clergy for a vacant benefice, or to make such an appointment] of Wimpole; manors of Steeple Morden, Pritchards Shingay and Kingston; woodlands and water in Wimpole, Arrington, Kingston, Great Eversden, Orwell and Whaddon,
489a; Church and Quarry Farms in Great and Little Eversden
293a; Town Farm in Kingston
277a; Holbien Farm in Great Eversden
101a; Church Farm in Great Eversden
241a; Smallholdings in Great Eversden
17a; Kingston Wood Farm in Kingston
278a; Eversden Wood Farm in Great Eversden
122a; New Farm in Kingston, Wimpole and Great Eversden
226a; Edge Hills Farm in Bourn and Kingston
167a; Kingston Pastures Farm in Kingston, Arrington and Wimpole
322a; Coombe Grove Farm in Wimpole and Arrington
309a; Valley Farm in Wimpole and Arrington
340a; Thornberry Hill Farm in Wimpole and Orwell
189a; Arrington Bridge Farm in Arrington
115a; Wragg's Farm in Arrington
296a; Church Farm in Arrington
334a; Arrington Mill; almshouses in Arrington Village; shops and house in Arrington;
ground rent on Arrington Home Farm in Wimpole
432a; Cobbs Wood Farm, Wimpole
234a; Eight Elms Farm in Wimpole and Arrington
214a; Old North Road Farm in Whaddon and Wimpole
207a; River Cam Farm in Wimpole and Whaddon
164a; Cambridge Road Farm in Wimpole and Orwell
183a; Hoback Farm in Wimpole
140a; Whaddon Field Farm in Whaddon
198a; Town Farm and Jarman's Farm in Whaddon
515a; Hoback Farm in Whaddon and Meldreth
235a; Pickering Arms and the Home Beerhouse in Whaddon; Arrington, Kneesworth,
Great Eversden; cottages in Great Eversden
268a; Shingay Gate Farm in Shingay and Steeple Morden
395a; South Farm in Shingay and Abington Pigotts
232a; Site of Shingay Mill
19a; North Brook End Farm in Steeple Morden
268a; Manor Farm with Manor House in Guilden Morden and Steeple Morden
313a; Town Farm in Guilden Morden
389a; Franklin's Farm in Steeple Morden
57a; Church and Moco Farms in Steeple Morden
252a; Bell Inn in Steeple Morden; farm in Litlington and Steeple Morden
63a; Lower Gatley End Farm in Steeple Morden
257a; Morden Heath and Thrift Farms in Steeple Morden
909a; Land and cottages in Steeple Morden, Litlington and Ashwell, Herts

...with plans and photographs.
"Lord Hardwicke's Estates - The sale by auction of the Wimpole estates, as vested in trustees under a private Act of 1881, was not effected on Wednesday afternoon. In the first place, the entire property (11110 acres) was put up as a whole, but withdrawn when £285,000 had been bid, the vendors bidding £290,000. Then the house and grounds, etc, being 7000 acres, with an estimated rental of nearly £6500 were put up as lot No 1, but withdrawn at a bid of £175,000, the vendor's price being £10,000 in advance. So, as previously announced, the sale of the twenty-four remaining lots was not proceeded with." ['The Builder' August 8 1891]
The images below are taken from the auction prospectus.
The Hall, South Front
Wimpole 1891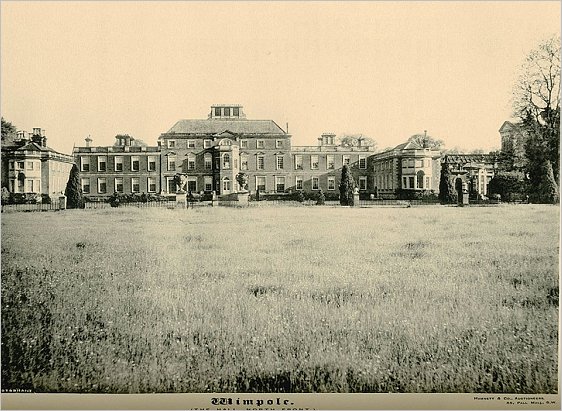 The Hall, North Front
Wimpole 1891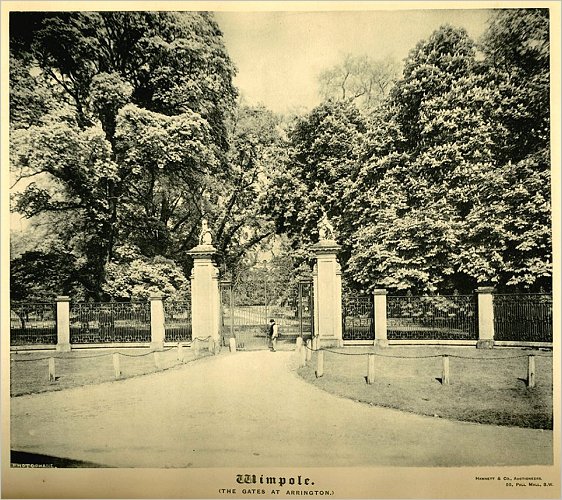 The Gates at Arrington
Wimpole 1891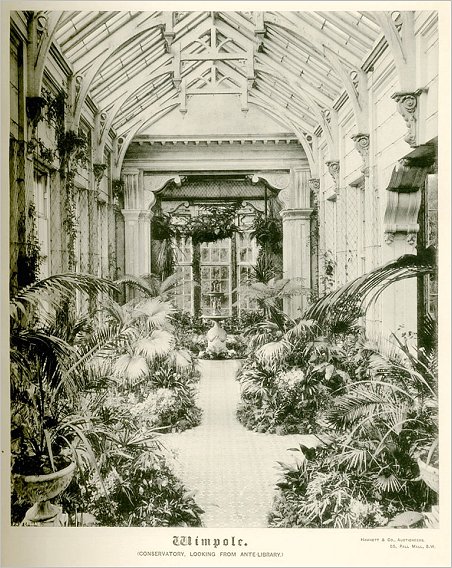 Conservatory Looking from Ante-Library
Wimpole 1891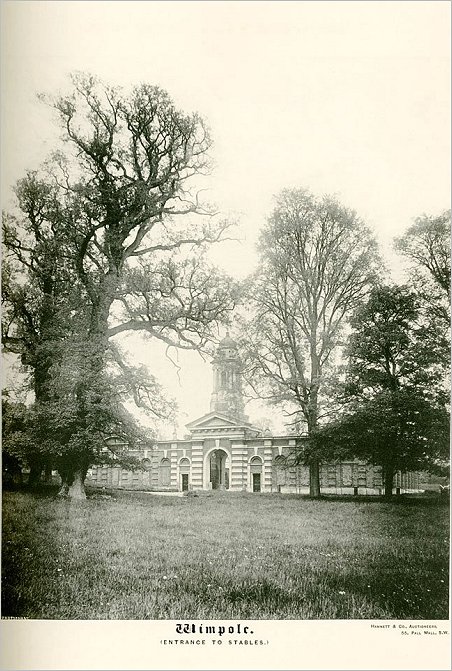 Entrance to Stables
Wimpole 1891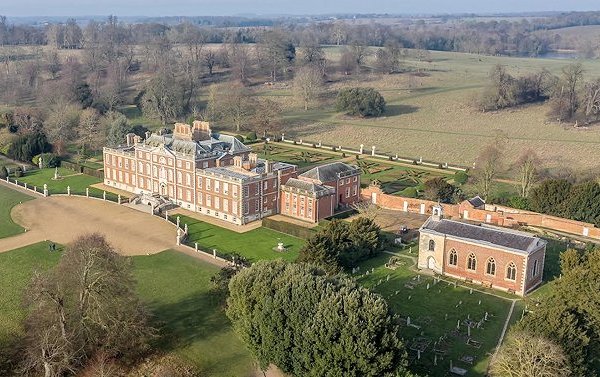 Aerial View of Wimpole Hall
Copyright © National Trust, all rights reserved.
This page was last updated: 19 November 2019