Wimpole (Church of England) School, October 1938
A group of 36 schoolchildren photographed at Wimpole School and said to be dated October 1938. The photograph was taken in 'The Chestnuts' facing Cambridge Road. The old 'Forge' and Rose Cottages can be seen in the background.
The 34 pupil names I have are:

Back Row

(six boys standing on chairs, left to right):

(unknown boy), Gordon Northrop, Jack Jarman, Gerald Homent, Benny Smith, Tom Davenport.

Third Row

(four girls standing, left to right)

: Milly Charter, Joan Mayo, Joan Blaby, Doris Reynolds.
Second Row

(pupils standing/sitting, left to right)

: Eric Clarke, David Mayo, Kath Payne, Joan Chessum, Daphne Rumbold, Margaret Clarke, May Nason, Elma Ablett, Ernie Reynolds, Dennis Rolph.

Front Row

(sitting, left to right)

: Peter Pratt, Keith Bullen, Joan Horsfield, Freddie Blaby, (unknown girl, surname possibly Wheeler), Betty Blaby, Janet Skinner, June Pratt, Janet Reynolds, Doug Clarke, Eric Chessum, Vic Chessum, Peggy Bullen.

I am two names short!
The boy in the back row, and the girl fifth from the left in the front row.
Please let me know if you can confirm or correct names to pupils or can contribute
any other information about the Wimpole School at that time.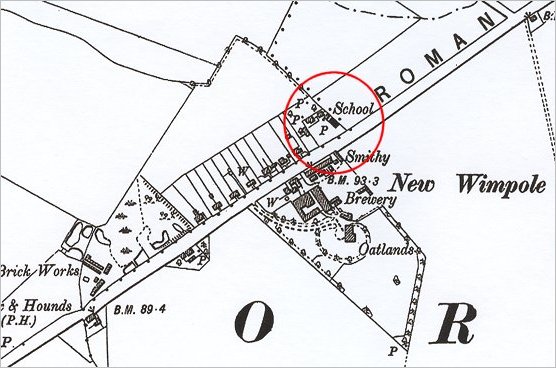 1903 (2nd Edition) Ordnance Survey Map,


showing the location of the Village School at Wimpole.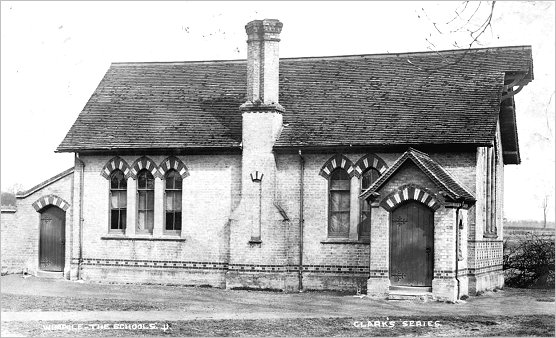 Wimpole Village School c1905
Wimpole's Church of England School was completed in 1876. The school closed suddenly
in 1946, the brick structure being declared "absolutely unsafe for the children".