A local history and genealogy site for Wimpole, a village and parish in South Cambridgeshire
Curated by Steve Odell



Harry Skinner
Remembered with Honour

The Wimpole and Arrington War Memorial.
A local history and genealogy page for the Parish of Wimpole.




In memory of

Harry Skinner

23312 Private, 7th Battalion,
Suffolk Regiment

(Wimpole)

Died: 5 April 1918, aged 20
on the Battlefields of the Somme.

- Lest We Forget -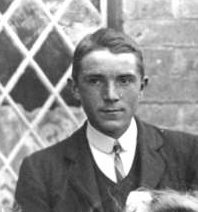 Harry Skinner was born in Wimpole, Cambridgeshire, son of Charles
and Ellen Skinner, on the 20 July 1897 and baptised at St Andrew's Parish Church, Wimpole, on the 12 September 1897.
He enlisted at Cambridge in November 1915 and followed his two elder brothers
into the Suffolk Regiment.
Private Skinner was killed in action on Friday 5th April 1918, aged 20,
possibly at the Battle of the Avre (a German offensive) on the Somme.
Harry has no known grave and is commemorated on the
Pozieres War Memorial in France (see below).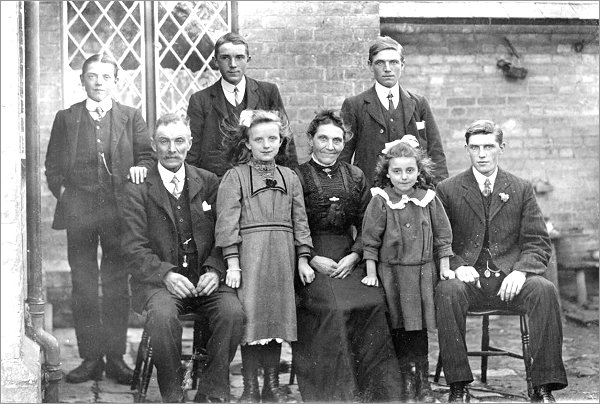 Harry Skinner [standing centre] was the son of
Charles and Ellen Skinner of New Wimpole, Cambridgeshire.
The photograph above shows the Skinner family, photographed at the Wayman's house next door [now 68 Cambridge Road] around 1912. Back row (left to right) Arthur John Skinner (born 1900), Harry Skinner (born 1897), Frank Skinner (born 1894). Seated (left to right] Charles Skinner, Ann Mary Skinner (born 1903), Ellen Skinner [Neaves], Ada Ellen Skinner (born 1907), Edward Charles Skinner (born 1892). Missing in the photograph is elder sister Margaret Jane Skinner (born 1890). Within six years of this family photograph being taken, three of Charles and Ellen's four sons had been killed in action in France.
Photograph courtesy of Brenda and Michael Skinner (2003)

1911 Census
(Combined Family)

Living at 70 Cambridge Road, Wimpole (modern postal address).
Charles [Edward]
Skinner
Head
M
51
Agricultural Labourer
Wimpole, Cambridgeshire
Ellen Skinner [Neave]
Wife
M
46
Barrington, Cambridgeshire
Margaret Jane Skinner

[1]

Daughter
S
21
Housemaid
Wimpole, Cambridgeshire
Charles Edward Skinner
Son
S
19
Engineer Labourer
Wimpole, Cambridgeshire
Frank Skinner
Son
S
16
Baker's Assistant
Barrington, Cambridgeshire
Harry Skinner

[2]

Son
13
Farm Labourer
Wimpole, Cambridgeshire
Arthur John Skinner
Son
10
School
Barrington, Cambridgeshire
Ann[ie] Mary Skinner

[2]

Daughter
7
School
Wimpole, Cambridgeshire
Ada Ellen Skinner
Daughter
4
Wimpole, Cambridgeshire
[1] At the date of the 1911 Census, Mary Jane was working as a residential housemaid at the household of Author (Rev) John William Edward Conybeare, 10 Union Road, Cambridge. Conybeare was sometime Vicar of Barrington, local historian, writer of Cambridgeshire travel guides, cyclist, and publisher of a series of local postcards.
[2] At the date of the 1911 Census, Harry and Ann[ie] Mary were staying with their Aunt Mary Ann Challis, at High Street, Barrington.

Reprinted from the
British Army Ancestors
website.
The Skinner brothers of Wimpole, Cambridgeshire
Where the Skinner family rests:
"A couple of weeks ago, on a beautifully sunny autumn day, we decided to pop over to Wimpole Estate in Cambridgeshire. Within the estate grounds is the Anglican parish church of St Andrews and in the churchyard, very close to the entrance is a family grave that contains the mortal remains of Charles Skinner, his wife Ellen, and two of their grandchildren. The headstone must have been erected when Charles died in 1926, but the focus is very much on Charles and Ellen's three sons, all killed in action during the First World War whilst serving with the Suffolk Regiment. I suspect that their names were added at the same time as Charles' details, a suitable gap left between to accommodate Ellen in due course. Note too, the Suffolk Regiment cap badge at the top of the stone.
The Skinner brothers in France:
Juging by their regimental numbers, Frank Skinner joined the Suffolk Regiment in September 1914, Edward in October 1914 and Harry, who would only have been about 17 when Britain went to war, in November 1915. All three brothers were volunteers.
"13644 Pte Frank Skinner, standing on the right, was the first of Charles and Ellen's four boys to die. He was killed in action on the 1st July 1916 whilst serving with the 11th Battalion and is buried in Gordon Dump Cemetery, Ovillers La Boiselle. Just over five weeks later on the 9th August 1916, his elder brother, 15628 Pte Edward Skinner was killed in action whilst serving with the 7th Battalion. Edward, seated on the right, has no known grave and is commemorated on the Thiepval War Memorial. Finally, on the 5th April 1918, 23312 Pte Harry Skinner, also serving with the 7th Battalion, was killed in action. He too has no known grave and is commemorated on the Pozieres War Memorial. Harry is the man standing in the centre of the photo which dates to about 1912. Thus Charles and Ellen Skinner lost their sons.
The Skinner family and Wimpole Past:
"The photograph I have usedcomes from Wimpole Past, a local history and genealogy site for Wimpole in South Cambridgeshire. We've been to Wimpole Estate before and I recommend it, particularly now, at this time of year with the leaves changing colour. We were blessed with warmth and bright sunshine but nevertheless, seeing this headstone at any time of the year brings nothing but chills. RIP Frank, Edward and Harry."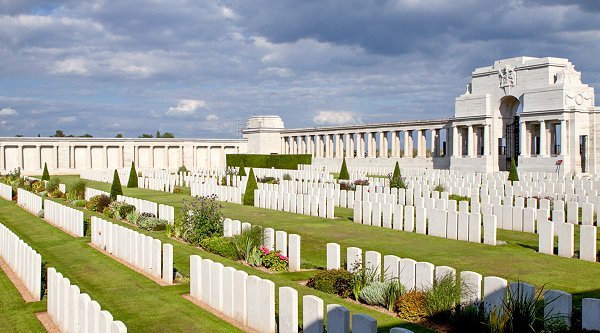 Harry Skinner

Memorial: Panel 25, Pozières Memorial, Ovillers-la-Boisselle, France.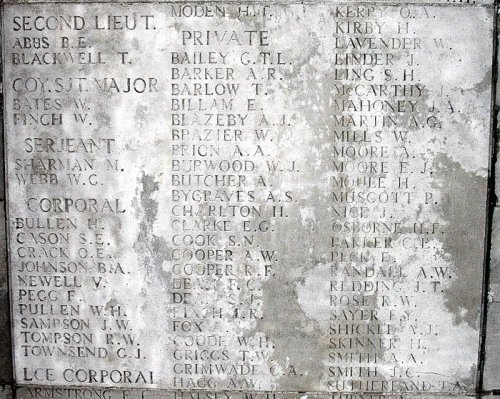 The Pozières Memorial relates to the period of crisis in March and April 1918 when the Allied Fifth Army was driven back by overwhelming numbers across the former Somme battlefields. The Memorial commemorates over 14,000 casualties of the United Kingdom and 300 of the South African Forces who have no known grave and who died on the Somme from 21 March to 7 August 1918.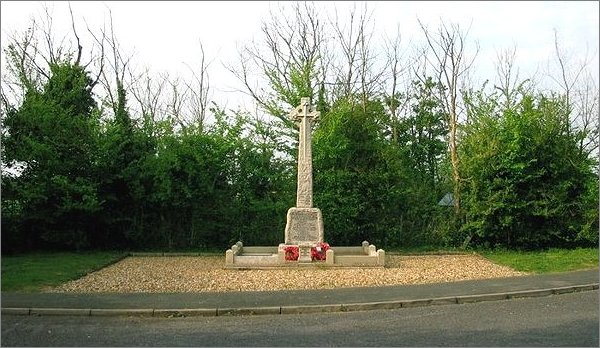 The Wimpole and Arrington War Memorial pictured in 2011
© Photographed by Lorraine and Keith Bowdler
The servicemen and women are listed under the Parishes of Arrington or Wimpole
as shown on the Cambridgeshire County War Memorial in Ely Cathedral.
War Memorial research by Steve Odell.

Photographs and additional details on this page courtesy of Brenda and Michael Skinner.
The War Memorial Project would welcome any additional information, research,
photographs or memories of Harry Skinner for this page.
Please contact the website.
This page was last updated on: 28 April 2020.